MICHEL LEGRAND (1932-2019)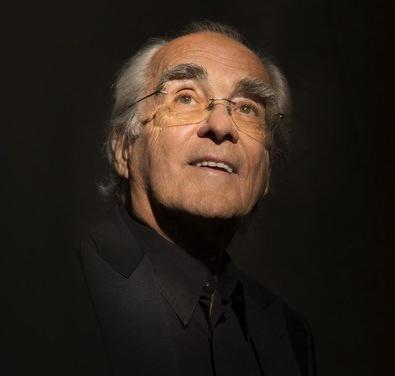 Michel Legrand, who died on 26th January at the age of 86, was a prolific composer of music for films, over 250 of them in fact. The son of bandleader Raymond Legrand, he entered the Paris Conservatoire at the age of just 10 and studied under Nadia Boulanger, whose other pupils included Aaron Copland and Quincy Jones.
Boulanger recognized his enthusiasm for jazz, which was to lead him to New York to record with Miles Davis, John Coltrane and other greats. He also wrote arrangements for Maurice Chevalier and Jacques Brel.
In the 1960s he met French New Wave film director Jacques Demy, with whom he collaborated on 10 films. These included most notably the ground-breaking sung-through musicals The Umbrellas Of Cherbourg (1964) and The Young Girls Of Rochefort (1968), the latter featuring a cameo appearance by Gene Kelly. The scores (with fresh lyrics by Norman Gimbel or Alan & Marilyn Bergman) yielded hit songs such as I Will Wait For You, Watch What Happens and You Must Believe In Spring. They have been covered by Frank Sinatra, Tony Bennett and Liza Minnelli, among many others.
Michel's first Oscar was for The Windmills Of Your Mind (sung by Noel Harrison) that opens the 1968 film The Thomas Crown Affair featuring Steve McQueen and Faye Dunaway. Further Oscars followed with The Summer Of '42 (1971) and Barbra Streisand's Yentl (1983).
Although concentrating mainly on his own music, Michel also recorded albums such as Songs Of The 20th Century, featuring arrangements of compositions by Irving Berlin and Rodgers & Hart, and Happy Radio Days including Holiday For Strings and Swedish Rhapsody.
In a recent interview, Michel stated his belief that 'melody trumps everything'. Music continued to pour from his pen for the rest of his life, including very recently Concertos for Piano, Cello and Harp, which are far removed from his traditional style.
He undertook extensive tours and made a final UK appearance (to a rapturous reception) at London's Royal Festival Hall in September last year with the Royal Philharmonic Orchestra.
[Further concert appearances were planned for the spring of 2019 –ed.]

© Anthony Wills 2019