Carl Davis
(1936-2023)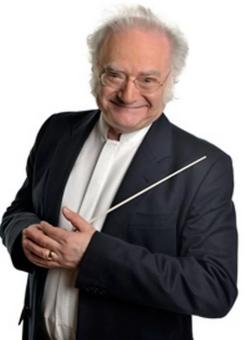 The renowned composer Carl Davis died on August 3rd 2023 aged 86.

Alex Gleason, our resident film-music guru, has penned this very comprehensive account of his career: -

The outpouring of glowing tributes to Carl Davis has proved how fondly he was regarded by friends and members of the music profession, but have tended to overshadow the question of how original a composer he actually was. The sheer volume of his musical output, including over 200 film and TV scores plus theatre, ballets and many concert performances, have tended to obscure the fact that much of his music was adaptation, arrangements or downright imitation of the popular and classical idioms of any era or subject that was required, but clearly this was the skill at which he excelled.

Born in Brooklyn, New York in 1936, to immigrant Jewish parents, he exhibited an early talent for music and became a star pupil at his various schools and colleges. Although classically educated and already conducting public concerts whilst still in his teens, his light-hearted college revue Diversions was destined to divert him from a career as a 'serious' classical musician. The show transferred to 'off-Broadway' in 1958 and after an award-winning run, toured through the US as Twists, ending at the Edinburgh Festival in 1962 and London's Arts theatre in early '63.

Inveterate talent-spotter Ned Sherrin swiftly signed Davis up for his late-night TV satire show, That Was The Week That Was, and he was swiftly composing and arranging weekly topical songs with veteran lyricist Caryl Brahms. He had intended only a brief stay in Britain, but was now destined to make it his home for the rest of his life.

Through the sixties Davis became a fixture the London music scene as a jobbing composer/conductor, doing theatre and TV work including Wednesday Play, Omnibus, and Theatre 625 (almost all of which seem to have been wiped). In 1964, he composed his first film score - The Other World of Winston Churchill, a colour documentary made with the American market in mind, dealing with the former Prime Minister's love of art. Commentary was by Brahms and narrated by Paul Schofield (with Patrick Wymark as the voice of Churchill). The film's pseudo-rural semi-classical idiom, seems to have been a success (even warranting a soundtrack LP), although his next film, a short story with a twist Stop! ('67) seems to have made less of an impression, and is now regarded as 'lost'.

Davis' website claims that his first serious recognition came with the music for Alan Bennet's hit comedy 40 Years On (Apollo Theatre, '68), a satire on the public school system and British society generally, told through a cockeyed end-of-term show in a selection of variety vignettes and sketches, with musical embellishments supplied effortlessly by Davis.

By the early 70s he had become one of the busiest composers in the film industry - including a curious Danish British co-production The Only Way, the Frankie Howerd Up Pompeii feature-film spinoff (and sequels), and even an Amicus Jeckyl & Hyde horror – I Monster – starring Christopher Lee.

In 1972, Jeremy Isaacs at Thames TV instigated the company's most ambitious project to date, a complete history of the Second World War, taking footage from the world's archives and interviews from prominent surviving participants. Narrated by Sir Laurence Olivier, it was a prestigious affair, and the music required had to be impressive – and in some quantity; there were eventually twenty-six one-hour episodes.

The World at War theme and incidental music were highly praised by a public largely unfamiliar with Vaughan Williams' 6th Symphony, but other parts of the score displayed originality when required. Davis' chameleon-like ability to supply sound-alike styles for his scores plus his prodigious speed made him the 'go-to' composer throughout the '70s '80s and '90s, and when the same Thames TV crew embarked on another ambitious project – a realisation of Kevin Brownlow's classic The Parades Gone By, a celebration of American silent cinema, Davis was again brought in, and unwittingly set off the next - and perhaps, most significant - phase of his musical career, scoring restored silent films.

The 'Hollywood' series (1980) ran for thirteen one-hour episodes and, apart from the interview sequences, had to be scored throughout - in this case with themes 'inspired' by music of the 'teens and 1920s. Kevin Brownlow's lifelong obsession with the French silent classic "Napoleon" (1927) led to a restored theatrical re-release at the 1980 London Film Festival, with Davis and the Wren orchestra performing live to a reportedly stunned audience. The initial performance at the Empire, Leicester Square, was over five hours duration and subsequent performances were even longer as new footage was discovered, calling for substantial musical re-writes and additional cues. Again he was writing in the 19th century romantic idiom, with a great deal of the scoring inspired by Beethoven and his Eroica Symphony.

This surprising success led to numerous repeat performances in Britain and America, and inspired a whole spate of new silent restorations through the 1980s in cinemas and on TV, as the series Thames Silents, again under the stewardship of Brownlow, his partner David Gill and maestro Davis; these included Buster Keaton's The General and Our Hospitality, Lon Chaney in Phantom of the Opera, Garbo in Woman of Affairs, D.W. Griffiths' absurd epic Intolerance and then further TV series on Charles Chaplin, Buster Keaton and Harold Lloyd.

In between these projects Davis scored very many more films & TV shows, e.g. The Snow Goose, Pride and Prejudice, (whose tinkling theme still gets regular outings on Classic FM radio), and the much over-hyped French Lieutenant's Woman; remakes of Lorna Doone, The Pickwick Papers and Silas Marner; Trevor Howard & Celia Johnson's Staying On - the list just goes on and on.

The sheer volume of Davis' output makes a summary almost impossible. The TV and film commissions continued until the 2010s and musical projects in many fields including ballet, theatre and concerts continued until as recently as 2018. Among the highlights were the Dame Edna Everage musical extravaganza Last Night of the Poms, with the LSO at the Royal Albert Hall in 1981, and the well-publicised but unadmired Liverpool Oratorio (1991) (melodies hummed by Sir Paul McCartney - orchestrated by Davis). Carl Davis embraced all aspects of the musical scene, if not always with originality, then certainly with endless enthusiasm.

Davis married actress Jean Boht in 1970. They had two daughters, one of whom became a film-maker, and he was awarded the CBE in 2005.

© Alexander Gleason
August 2023.