December 2022
Eric Coates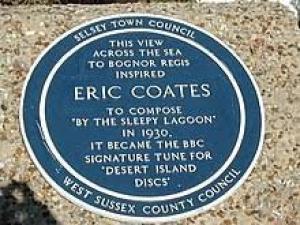 Wednesday 21st December 2022 will see the 65th anniversary of the death of Eric Coates (1886-1957).
He is best known for his By The Sleepy Lagoon which has been used as the signature tune of BBC Radio 4's Desert Island Discs since the programme started 80 years ago in 1942, although Coates wrote it in 1930. Other compositions of his that were used by the BBC were Calling All Workers (for Music While You Work, 1940-67) and Knightsbridge March (for In Town Tonight, 1933-60).
---
November 2022
Bramwell Tovey & the BBC Concert Orchestra record Poulenc for Chandos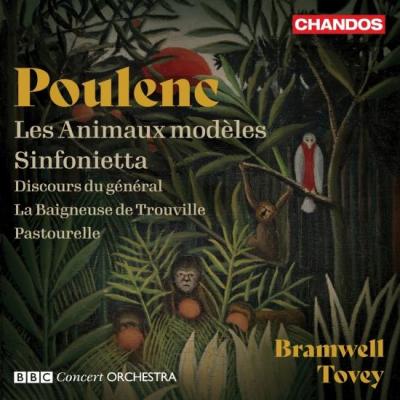 Recorded in April at the Watford Colosseum, the BBC Concert Orchestra play a programme of music by Francis Poulenc (1902-60), conducted by the late Bramwell Tovey who died in July.
Chandos CHSA 5260 [SACD] was released on November 4th 2022.
https://www.chandos.net/products/catalogue/CHAN%205260
---
September 2022
Scarborough Spa Orchestra Summer Season 2022
Sample Programme
Below is a sample of one of this year's summer season programmes: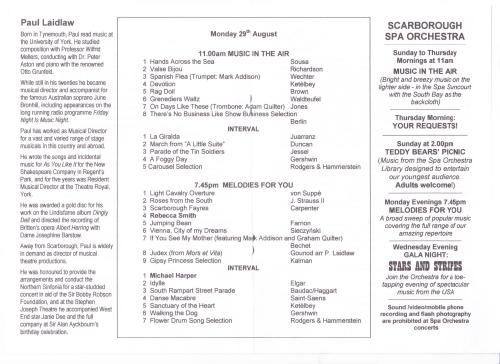 (click to enlarge)
---
September 2022
Iain Sutherland updated Discography
Conductor Iain Sutherland has just sent revised his complete discography which you can now access from our Articles page.
---
September 2022
Real Bard of Brum
From The Daily Mail, Friday, 2nd September 2022
Click on the article to enlarge...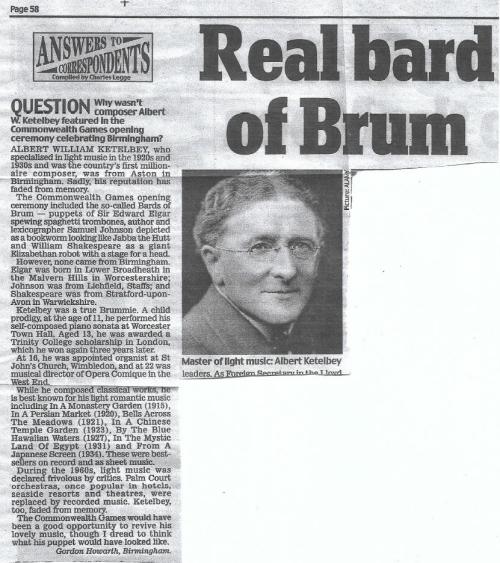 from Tony Foster
---
September 2022
Jenny Worsley
We are very saddened to learn that Jenny Worsley, wife of Peter Worsley, passed away on August 30th, at Gloucester Royal Infirmary, after a protracted illness borne with great dignity and fortitude.
Peter has been a very loyal and enthusiastic supporter of the LLMMG and was, for many years prior to the formation of the latter, a long-standing member of the Robert Farnon Society. Although he was not usually able to attend our London meetings, his constant input, comments and advice have been extremely valued.
Our sincere condolences are extended to Peter and his family.
Tony Clayden
---
July 2022
Bramwell Tovey
1953 - 2022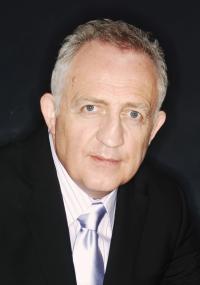 We regret to record the death of Bramwell Tovey, the principal conductor of the BBC Concert Orchestra, after a protracted illness, on 12th July 2022.
An obituary by Roderick Elms can be found on our website here.
(Some may remember Roderick Elms as the speaker at our October 2019 meeting.)
---
June 2022
David Lloyd-Jones [1934-2022]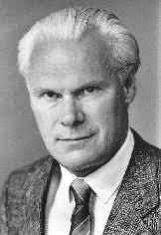 It is with regret that we record the death – after a short illness –
of the conductor David Lloyd-Jones, who passed-away on June 8th 2022.
The founder of Opera North, he was principally associated with the 'serious' end of the musical spectrum and showed a particular interest in British and Russian music.
Mr. Lloyd-Jones was a prolific recording artiste, whose name appeared on several labels, including Philips, Hyperion, MRF, Marco Polo, Dutton Epoch, Chandos, Melba and Oriel.
He conducted well over thirty CDs for the NAXOS company, including four volumes of English String Miniatures, featuring Light Music works by many celebrated composers, including Haydn Wood, John Rutter, George Melachrino, Frank Cordell, Cecil Armstrong Gibbs, Philip Lane, Peter Hope, Adam Carse, Ernest Tomlinson, Gustav Holst, Paul Lewis, Frederick Delius and Peter Warlock.
© Tony Clayden June 2022
---
June 2022
Aspidistra Drawing Room Orchestra
New CD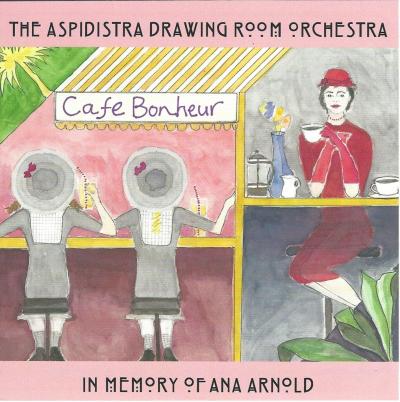 The Aspidistra Drawing Room Orchestra have now received the CDs of 'Café Bonheur', their brand new recording.
More CD information on their website
---
May 2022
British Vintage Wireless and Television Museum
Afternoon of Music - May 14th 2022
A very warm and sunny Saturday saw the first musical gathering of 2022 at the Museum. Although the numbers were [rather disappointingly] lower than customary, those attending were treated to enjoyable presentations by Brian Reynolds [on orchestras which used to appear on BBC radio], Alex Gleason, [who played a selection of his favourite musical compositions written for films], Chris Money [on the American composer Leroy Anderson] and Tony Clayden [on the English composer and arranger George Melachrino]. Tony also organised and introduced the programme.
Visitors were able to view [at a distance] the progress of the site improvements – including the new cabin and groundworks – which were nearing completion in time for the forthcoming Garden Party at the beginning of June.
Brian Reynolds – whose grandfather and then father ran a very successful Radio and Television business in Bromley for many years – was delighted to see that the shop's signboard, which had languished for many years in Brian's garage, has now been awarded pride-of-place on the front of the TV room.
As always, a light lunch was provided by Eileen Laffey and the whole afternoon was 'overseen' by John Thompson.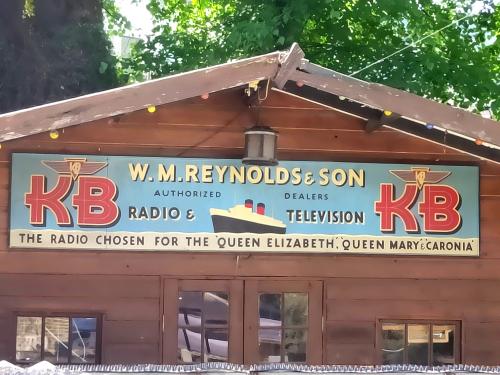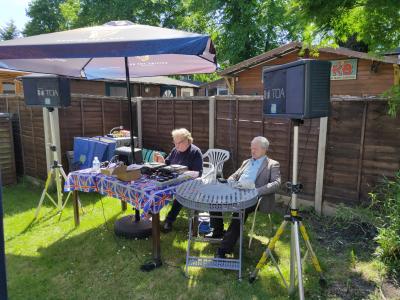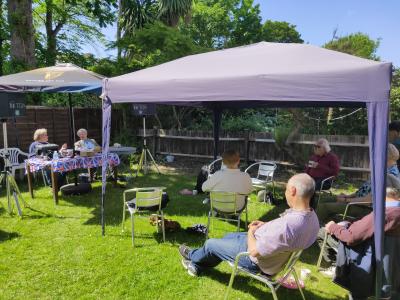 © Tony Clayden 2022
---
May 2022
A new Hospital Radio fund raising CD
compiled by Steven Wills
Intermission Accomplished
European Sound Stage Orchestra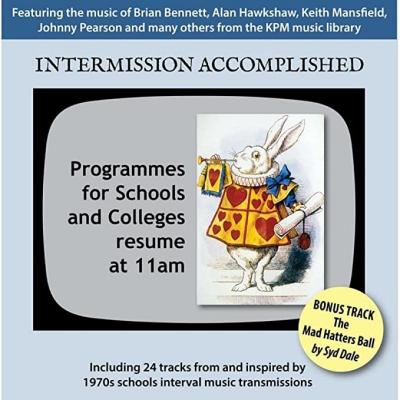 Featuring the music of Brian Bennett, Alan Hawkshaw, Keith Mansfield, Johnny Pearson and many others from the KPM music library.
Full CD details can be found on Amazon here or click on the CD cover above
---
January 2022
1952 - A Royal Year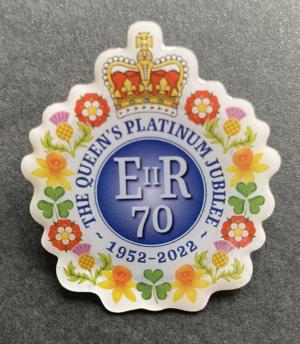 Steven Wills celebrates The Queen's Platinum Jubilee with a programme of music from 1952
March 2022
Ana Arnold
It is with great sadness that we have to record the tragic death of Ana [Anastasia] Arnold in a road accident in France on February 12th 2022. Ana was for some years the regular flautist with the Aspidistra Drawing Room Orchestra and over the last two years she was involved with organising and editing the 'lockdown' performances of the ADRO which were widely enjoyed via the internet, as were the two live concerts which were more recently staged at the Sands Theatre in London.
Ana became known to several LLMMG supporters when they met her at the Orchestra's regular Bank Holiday concerts in Highgate, North London
A full appreciation of her life and work may be found here.
---
January 2022
The Music of Fred Hartley
RAF Salon Orchestra concert review
---
January 2022
Iain Sutherland Discography
Conductor Iain Sutherland has just sent us a copy of his complete discography which you can now access from our Articles page.
---
André Leon's Christmas Radio Juke Box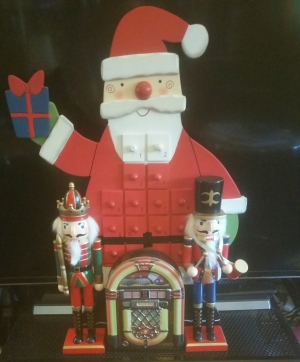 André Leon introduces seasonal sounds as you join him on a musical sleigh ride with Santa's Juke Box on board!
Expect to hear Frank Sinatra and Elvis Presley amongst A Star Line Up!
also available via our Streaming Audio selection
---
November 2021
STEPHEN SONDHEIM (1930-2021)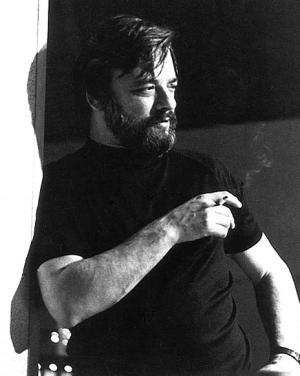 The American composer and lyricist Stephen Sondheim has died aged 91.
You can read an obituary here.
---
October 2021
A Tribute to Leslie Bricusse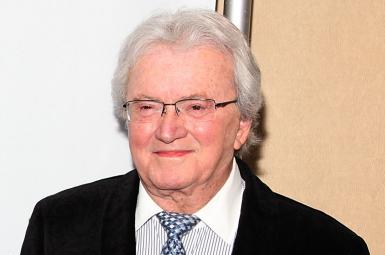 (A Musical Theatre Melodies broadcast from Inner FM)
A Musical Theatre Melodies broadcast pays tribute to the Academy, Grammy and Ivor Novello Award-winning composer, lyricist, librettist and screenwriter, Leslie Bricusse (who passed away at his home in the South of France last week at the age of 90).
The program features an archival interview with Leslie from July 2021 to mark the 60th Anniversary of the London premiere of the Bricusse – Anthony Newley musical Stop The World – I Want to Get Off, in which Leslie also discussed his up-coming projects, which included the long-awaited British premiere of his Sammy Davis Jr. bio-musical Sammy, plus his recently completed stage work The Great Musical Comedy (aka Sunday Dallas), the concert presentation of A Few Words With George (for which Leslie wrote lyrics to accompany the orchestral works of George Gershwin), animated film versions of Noah's Ark (featuring a song score originally written in the 1960s) and Scrooge (based on his 1970 film and subsequent stage adaptation) and the projected film version of Jekyll & Hyde.
The programme concludes with a replay of excerpts from a 90th Birthday tribute to Leslie Bricusse which featured a selection of his songs written and co-written (with collaborators including Anthony Newley, Cyril Ornadel, Henry Mancini, John Williams and Frank Wildhorn) for the stage musicals Stop The World – I Want To Get Off, Pickwick, The Roar Of The Greasepaint – The Smell Of The Crowd, The Good Old Bad Old Days, Sherlock Holmes, Jekyll & Hyde and Cyrano de Bergerac; and screen musicals Charley Moon, Doctor Doolittle, Goodbye Mr. Chips, Scrooge, Willy Wonka & the Chocolate Factory and Victor/Victoria, from the respective original cast and film soundtrack recordings.
See Leslie Bricusse's Obituary by Anthony Wills
---
October 2021
Alan Hawkshaw (1937-2021)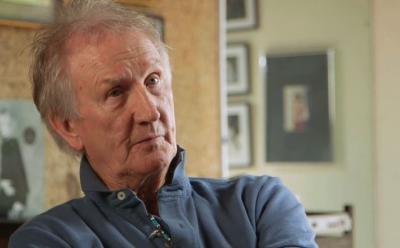 Composer who wrote the theme tunes for Channel 4 News and Grange Hill, and the music to accompany the Countdown clock has died aged 84.
You can read an obituary here.
---
August 2021
Barbara Moore (1932-2021)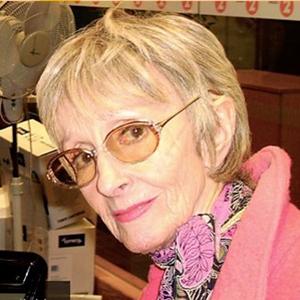 The talented pianist, singer, arranger and composer Barbara Moore has died after a long illness, aged 89. Born in Yorkshire, Barbara was the daughter of saxophonist and arranger Arthur Birkby. She was an early member of The Ladybirds backing group.
As well as composing music for commercials and the De Wolfe Music Library, she wrote the new, up-dated arrangement for Brian Fahey's celebrated signature tune At The Sign Of The Swinging Cymbal, still used on BBC Radio 2's Pick Of The Pops. She later worked with Jimi Hendrix, Dusty Springfield, Elton John, Tom Jones and Dudley Moore, with whom she became a close friend.
At one time Barbara was married to arranger Pete Moore (1924-2013), former Head of Orchestrations at Radio 2; their daughter Lindsay sadly died in her 40s.
In her later years Barbara moved to the coastal town of Bognor Regis, where she became a well-known personality, performing locally and lecturing at the University of Chichester.
https://www.barbaramoore.co.uk/
Anthony Wills
© August 2021
---
June 2021
Hundreds of full editions of 'Music While You Work'
are available for streaming on Brian Reynolds' website
---
June 2021
Vernon Anderson
It is with profound sadness that we record the death of our supporter Vernon Anderson, who peacefully passed away on June 15th, after a period of ill health borne with great courage and dignity.
Click here to read an obituary.
---
May 2021
Aspidistra Drawing Room Orchestra Concert
May 31st 2021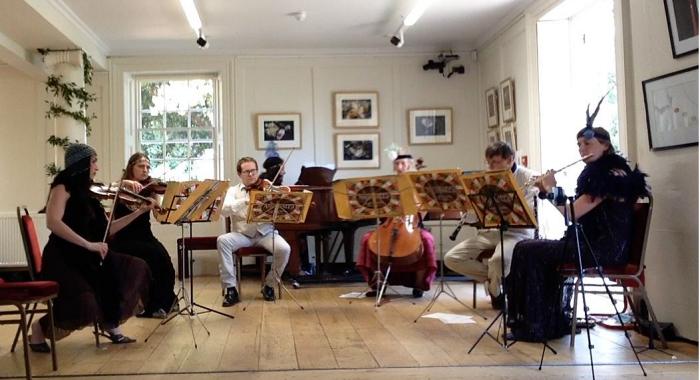 ---
March 2021
'HEHR Archive' on Youtube
This USA Youtube channel contains many playlists some of which Light Music enthusiasts will find of interest:
https://www.youtube.com/channel/UCdw7kJeC2h7oZ8StCdQUjYg/playlists
Here is a selection of some of the playlists available on the channel:
'World of Light Music'
'The Story of Light Music'
BBC 'My Music'
'Melody Time'
'The Andre Kostelanetz Show'
BBC 'Sing Something Simple'
'Bands and their Music'
'On Parade'
'My Kind of Music'
and there are a lot more including over 40 BBC 'My Word' programmes!
---
February 2021
Sunday Bandstand
For those of you who like Brass Bands, Chris Helme produces a two hour weekly programme of Brass Band music which you can stream online here
We have linked to his programmes from our streaming light music page.
---
A new 'Lockdown' video from
The Aspidistra Drawing Room Orchestra
Whistling Rufus by Kerry Mills arranged by Roland Anderson
The original sheet music, published by F. A. Mills of New York in 1899 depicts Whistling Rufus on the cover playing a guitar, "A great musician with a high position, was Whistling Rufus, the one-band man." The video we've used will be familiar to some of you, no doubt - Steamboat Willie, notable for being the first cartoon animation with fully synchronised sound. Aspidistra were not part of the original production!!
---
December 2020
Tico Tico (arr Trevor Wye) arranged for 6 flutes played by Katherine Bryan in lockdown
https://www.youtube.com/channel/UCK_MMzQxOt8cYvAlLweR30w
---
December 2020
Kenneth Alwyn, conductor, composer and writer,
has died aged 95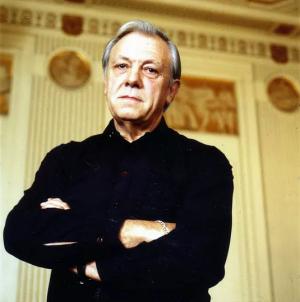 Described by BBC Radio 3 as "one of the great British musical directors", Alwyn was known for his many recordings, including with the London Symphony Orchestra on Decca's first stereophonic recording of Tchaikovsky's 1812 Overture.
He was also known for his long association with BBC Radio 2's orchestral live music programme Friday Night is Music Night, appearing for thirty years as a conductor and presenter, and for his contribution to British musical theatre as a prolific musical director in the 1950s and 1960s.
He was a Fellow of the Royal Academy of Music and married the actress Mary Law in 1960. His website and the first volume of his memoirs A Baton in the Ballet and Other Places were both published in 2015. The second volume Is Anyone Watching? was published in 2017.
Read his full Wikipedia entry here:
https://en.wikipedia.org/wiki/Kenneth_Alwyn
---
December 2020
Gavin Sutherland ...
... brings together some of the wonderful musicians of English National Ballet Philharmonic for a special working from home rendition of Tchaikovsky's Swan Lake Overture.
... In the spirit of #ClapForOurCarers, the #ENBPhilharmonic have remotely recorded a special excerpt from the ENB production of Raymonda, dedicated with much love and gratitude to #OurNHSPeople and to #HealthWorkers all over the world ?? #PlayForOurCarers #ENBAtHome
... Some of the UK's finest musicians, still in lockdown owing to COVID-19 and its effect on the arts, pay tribute to the late Dame Vera Lynn, by coming together to perform her legendary hit "We'll Meet Again".
... Gavin's orchestra-at-home perform a song adopted as a tribute to the NHS and their immense dedication and commitment during the challenging times the COVID pandemic has seen.
---
November 2020
A fifth 'Lockdown' video from
The Aspidistra Drawing Room Orchestra
Yearning (Just For You) by Joe Burke
Performance by the Aspidistra Drawing Room Orchestra in lockdown.
In this video, Mabel and Fatty make guest appearances. It is the first of their videos with vocals.
The Aspidistra Webpage now also features a blog. This allows you to give feedback on any Aspidistra activity or related musical matters. If you feel inclined to tell them something in future, write it on the blog page, and they can all see it.
Please spread the word and sign up for thier Newsletter.
---
November 2020
Another 'Lockdown' video from
The Aspidistra Drawing Room Orchestra
Girls in Grey by Charles Williams arranged by Roy Bell
Performance by the Aspidistra Drawing Room Orchestra in lockdown.
Girls in Grey was originally written for the Women's Junior Air Corps during World War II and later became known as the BBC television Newsreel theme.
---
November 2020
Peter Hope's 90th birthday.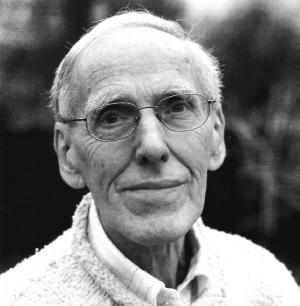 Peter Hope, noted Light Music composer and President of the Light Music Society, celebrated his 90th birthday on November 2nd 2020. A friend and former colleague of the late Ernest Tomlinson, Peter's career began in the early 50's as a copyist and arranger.
He soon branched out into composing and wrote a great deal of library music, principally for the publisher Mozart Edition and frequently under his pseudonym of William Gardner. Arguably, his most well-known opus is The Ring Of Kerry Suite, which deservedly won him an Ivor Novello award.
To mark this auspicious occasion, a two-CD set of many of his pieces has been issued, and is reviewed here.
Radio Six International devoted an hour-long programme to the life and work of Peter Hope and we are pleased to reproduce it, with due ackowledgement below:
---
November 2020
André Rieu has a new CD + DVD
Reported by Peter Burt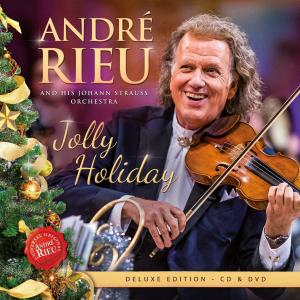 ANDRÉ RIEU has a new CD + DVD, 'JOLLY HOLIDAY' on Decca 5488182. The CD is live and is too much a singalong for my liking. The video is an interesting look behind the scenes including the stage building for his Christmas concert. As with so many things in this strange year it is unlikely there will be his usual best-selling studio produced album.
---
October 2020
Royal Philharmonic Orchestra - A new piece of British Light Music
On 30 September, in their first Spotlight Series concert, musicians from the RPO brass and percussion sections performed Jim Parker's 'A Londoner in New York' to a socially distanced audience at Cadogan Hall.
Experience the hustle and bustle of the Big Apple through this live recording in association with ILC Music Degrees (West Suffolk College) and enjoy an extract from a conversation with Jim Parker and trombonist Matthew Knight as the introduction. You can listen to the full interview with the composer here.
Find out more about the Spotlight Series of concerts here.
---
September 2020
BBC Instrumental Sessions
As part of the BBC Instrumental Sessions, the bassoons of the BBC orchestras perform Eric Coates's Calling All Workers, arranged by Steve Magee.
More information about these sessions can be found HERE
---
August 2020
Did you hear Brian Reynolds on Serenade Radio?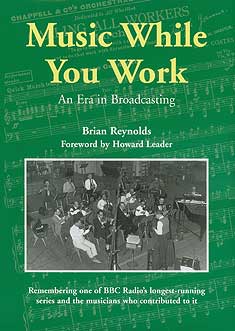 CALLING ALL WORKERS
Remember 'Music While You Work' on the BBC? The programme began 80 years ago this year.
Announced in the Radio Times as a "half hour's music meant specially for factory workers to listen to as they work", it soon proved a favourite with all listeners, as its familiar signature tune by Eric Coates rang out.
On August Bank Holiday Monday, Serenade's Brian Savin traced the programme's fascinating history along with Brian Reynolds.
You can listen to the programme again via our Streaming Audio page HERE
---
August 2020
'Lockdown' videos from The Aspidistra Drawing Room Orchestra

'Heather on the Pampas' by Sydney del Monte, arranged by Anastasia Arnold

La Morenita by Mátyás Seiber arranged by Roy Bell

The Donkey Serenade by Rudolf Friml arranged by Adam Bakker
August 2020
Light music featured as background music for TV shows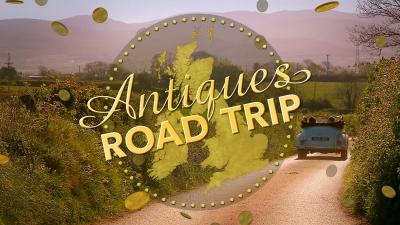 You might like to know that light music is often used as background music in the BBC TV programme 'Antiques Road Trip'.
A recent episode in the series was particularly productive with the following items spread over two programmes:
On a Spring Note
Coronation Scot
Runaway Rocking Horse
also
Swedish Rhapsody, Tick Tock Tango and Fun Fair (these three items were played by Ray Martin and his Orchestra, the latter two being adjacent items on a CD.
Not all of the programmes feature as many items of light music as the example above but there is quite often something to delight us. Also 'Car SOS' uses light music in some episodes.
If you feel so inclined you might still be able to view these programmes on 'catch-up' TV.
Peter Luck
---
July 2020
RIP Johnny & Annie
We have lost two major figures in Our Kind Of Music in the space of a month.
The arranger Johnny Mandel died on 29th June aged 94. He worked with all the greats including Frank Sinatra, Peggy Lee, Barbra Streisand, Tony Bennett and Natalie Cole. He also wrote The Shadow Of Your Smile and the Theme from Mash.
And Annie Ross of Lambert, Hendricks and Ross (and sister of Jimmy Logan) died in New York last week aged 89, four days short of her 90th birthday. She was born in Mitcham (Surrey) in 1930.
Anthony Wills
---
July 2020
Ennio Morricone (1928-2020)
Obituary by Chris O'Reilly on Presto Classical website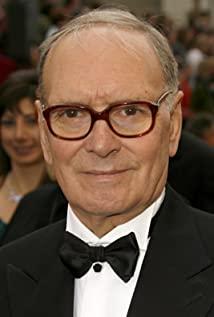 The Oscar-winning Italian composer, who wrote over 400 film scores and around 100 concert works, has died in Rome aged 91.
Morricone was born in Rome in 1928, and received his first music-lessons from his father Mario, a professional trumpet-player; as an undergraduate at the Accademia Nazionale di Santa Cecilia, the trumpet was initially Ennio's first study, but following postgraduate work with Goffredo Petrassi (to whom he would later dedicate his Concerto for Orchestra) his focus shifted to composition and arrangement.
Throughout the 1950s, Morricone worked as a jazz musician and an arranger for Italian radio and television, as well as ghost-writing for cinema. His first big-screen success in his own right came in 1961, when he composed the score for Lucian Salce's Il federale; Morricone and Salce went on to work together on films including Crazy Desire (1962), El Greco (1963), and How I Learned to Love Women (1966) as well as on several projects for the theatre.
Read on ....
www.prestomusic.com/classical/articles/3362--obituary-ennio-morricone-1928-2020
---
June 2020
It is our sad duty to record the deaths of two more former members of the Robert Farnon Society, both of which have occurred during the last few months.
John White was a regular attendee at RFS and then LLMMG meetings. By profession a Group Manager for London Underground, latterly at Kings Cross Station, John passed away at West Middlesex Hospital in December 2019, having unfortunately suffered two strokes. He was a great devotee of Frank Sinatra and possessed a huge collection of recordings of the latter. He would be seen taking copious notes throughout our meetings and was always on the lookout for new CDs that interested him.
Ralph Thompson will be remembered by many for his video recordings of RFS meetings, particularly those which had taken place on special occasions. A civil engineer in professional life, Ralph had a number of interests, including photography and videography, cycling and old London buses, in addition to Light Music and record collecting. Regrettably, he had suffered kidney failure towards the end of 2019 and died during February of this year.
Another of our supporters, Peter Luck, was a friend of both John and Ralph, and we are obliged to Peter for providing this information.
Tony Clayden
---
June 2020
Vera Lynn [1917-2020]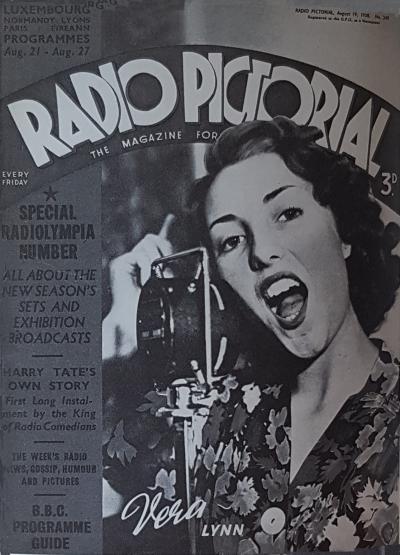 The cover of Radio Pictorial - August 1938
One of the most highly regarded figures in the world of entertainment during World War II - and for many years thereafter – has finally left us after an amazingly long life of 103 years.
Dame Vera, the Forces' Sweetheart, captured the hearts and minds of our nation, and her voice was regularly heard on radio broadcasts almost up until the present day.
---
June 2020
Obituary : Jim Palm
It is with regret that we record the death of former Robert Farnon Society member Jim Palm, on April 6th.
Many LLMMG supporters may remember Jim, who, back in the 90s, used to attend our London meetings. For several years he assisted David Ades with the editing of Journal Into Melody, to which he was also a regular contributor.
He hailed from Edgware, Middlesex [on the NW periphery of London] and in professional life worked for the BBC in the latter's gramophone library.
Upon his retirement from the Corporation, he moved to Salisbury, where he amassed his own sizeable collection of recorded music, much of it comprising discs from the libraries of publishers such as Chappells and Boosey & Hawkes.
Jim had an encyclopaedic knowledge of Light Music, which was put to good use
in the many articles he wrote for JIM and also for newspapers and periodicals in his locality.
Tony Clayden
June 2020
---
June 2020
Award Winning singer Robert Habermann
sings daily on Facebook at 6.05pm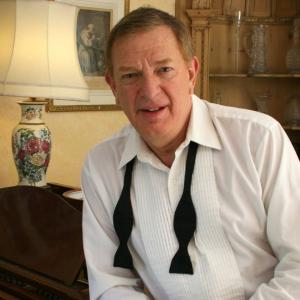 To chase the Covid Virus Blues away Award Winning singer Robert Habermann is singing 'live' everyday, one popular song from The Great American Songbook on Facebook at 6.05pm. So far he has sung over 100 songs on Facebook since the start of the lockdown!
Thanks to the wonderful world of technology, Robert is accompanied by big bands / orchestras, using the original arrangements and also introduces each song.
Songs include: You Make Me Feel So Young, That Old Black Magic, Summer Wind, I'll Be Seeing You, Close To You, I Won't Dance, Unforgettable, All Of Me, Magic Moments as well as current hits, Skyfall, She Bangs etc.
Tune into Facebook everyday at 6.05pm under Robert Habermann, and you will hear one of your favourite songs from The Great American Songbook to take your mind off this unprecedented time by one of the country's most popular singers
---
May 2020
"Heather on the Pampas"
As the Aspidistra Drawing Room Orchestra's Whit Monday Concert had to be cancelled due the COVID-19 problem, they have compensated by producing a "lockdown" video performance of "Heather on the Pampas" by Sydney Del Monte which you can view on the Streaming section of our website here.
Also, Adam Bakker, the organiser of the orchestra, has sent us a podcast entitled "Beguine and Bugatti" which you can find within the same Streaming section of our website here.
---
May 2020
Johnny Gregory (1924 – 2020)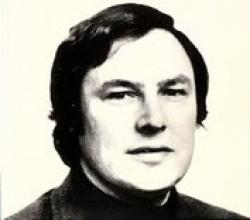 It is with regret that we record the death of the conductor, composer and arranger Johnny Gregory, who died at his home in Gerrards Cross, Buckinghamshire on April 23rd 2020, about six months short of his 96th birthday.
During his long career, he wrote the scores for fourteen films, (the last in 2000) and TV shows, and was principal conductor of the BBC Radio Orchestra between 1973 to 1974.
He made numerous recordings, both under his own name and (possibly more famously) as Chaquito.
Gregory used a number of other pseudonyms and his orchestra often appeared under the name of The Cascading Strings.
A comprehensive article about his life and work is in preparation and will be published on the LLMMG website in due course.
Tony Clayden
https://www.independent.co.uk/news/obituaries/john-gregory-light-music-composer-conductor-arranger-a9644461.html
---
May 2020
May 2020 Update
We were very sorry to be unable to present our May Meeting due to the ongoing COVID-19 problems. We trust that you and yours are all well and are staying safe. It is hoped that we will be able to go ahead with our planned October meeting and will keep you informed as soon as we have any further details.
In the meantime, we have added a new section to the website where you can listen to past programmes of Light Music courtesy of our member David Corbett whose 'Light Programme' is streamed over the web on Sundays.
This section will be updated and expanded to include other presentations over the coming months, including some programmes specially created for London Light Music Online.
Tony Clayden
---
BBC Genome has made 1950s Radio Times magazines
available online for the first time!
Time to unwrap your early Christmas gift from BBC Genome: the full pages of Radio Times from the 1950s.
In their latest blog, they reminisce about that distant decade....
The decade that changed TV - BBC reveals Radio Times magazines from the 1950s: https://twitter.com/i/status/1208688700567228417
Find the 1950s Radio Times issues here: https://genome.ch.bbc.co.uk/issues#decade-1950
---
October 2019
BBC NORTHERN IRELAND LIGHT ORCHESTRA
- A NEW DOUBLE CD FROM THE N.D.O PROJECT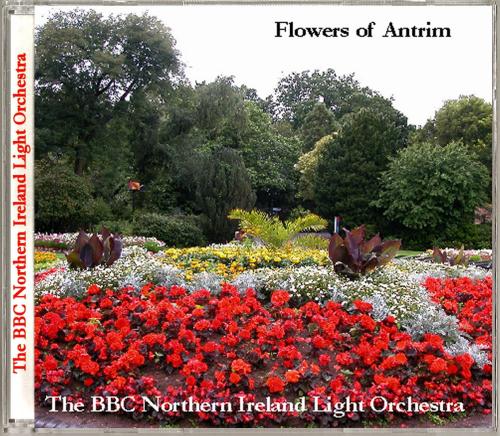 Following their successful series of recordings of the BBC Northern Dance orchestra, Scottish Variety Orchestra and Midland Radio Orchestra, the N.D.O Project are now pleased to present their latest recording - a double CD of the erstwhile BBC Northern Ireland Light Orchestra which provided light music several times a week to listeners of the BBC for over thirty years. Having been involved in selecting the tracks, I could be accused of bias when I say that the 56 tracks on this album, all taken from vintage radio programmes such as 'Morning Music' and 'Melody on the Move' probably represent the finest collection of tuneful light music that you are ever likely to encounter on CD.
This is the music with which many of us grew up, good tunes composed by such talented musicians as George Melachrino, Sidney Torch, Peter Yorke, Ron Goodwin and many others. Most of the conductors who fronted this orchestra over the years are represented, in particular their founder conductor David Curry, whose arrangements of Irish traditional tunes became world famous and are included on this CD.
Copies are available by contacting the NDO project at ndoinfo@virginmedia.com
If you are local to Manchester, there is normally 1 copy at Johnny Roadhouse's shop
123 Oxford Road,
All Saints,
Manchester
M1 7DU.
Tel 0161 273 1111 to check for stock on all NDO project CDs
Brian Reynolds
---
August 2019
The John Wilson Orchestra - Prom 30: The Warner Brothers Story
19:30 Friday 9th August 2019 - Royal Albert Hall
Ten years since their first Proms appearance together, John Wilson and the John Wilson Orchestra present an evening of sumptuous technicoloured scores from the Golden Age of Hollywood cinema.With music from films including The Sea Hawk, The Constant Nymph, Calamity Jane, A Streetcar Named Desire and Harry Potter.
TV Broadcast on BBC Four at 8pm
Broadcast live on BBC Radio 3 at 7.30pm and recorded for future broadcast on BBC Radio 2.
https://www.bbc.co.uk/programmes/m0007dcn
---
June 2019
Review of The Aspidistra Drawing Room Orchestra Concert- Lauderdale House, Monday 27th May 2019
For enthusiasts of traditional light music like myself, there is only one place to go on the second Bank Holiday in May, and that's Lauderdale House in Highgate, North London, to hear the wonderful Aspidistra Drawing Room Orchestra recreating the sounds of a by-gone age - but somehow making it just as acceptable to a modern audience as it was to their forbears. Indeed, good music can never 'date' - that which was deemed 'good' in its heyday will always be good; time cannot change that!
Adam Bakker, the Orchestra's founder and director, was worried that, because his computer had 'wiped' their mailing list and they had been unable to notify regulars of the concert, this might result in a low turnout.
In fact, the opposite was true as a record number of people attended, with many having to stand!
You don't go to an Aspidistra concert to hear all your favourite pieces, because the orchestra make a point of playing neglected compositions -often the lesser known numbers by famous composers, or Continental items which have rarely been heard in Britain.
Vocal items are beautifully executed by Liz Menezes and Camilla Cutts. Liz, who has also played second violin in the orchestra for many years, has now been promoted to leader - and what a splendid job she made of it! The orchestra (despite being essentially amateur) sounded professional and as good as I've ever heard it!
Some of the better-known items were Charles Williams' Girls in Grey, Ernest Tomlinson's Mississippi Melody, Howard Whitney's Mosquito's Parade and Cafe Bonheur by accordionist, Henry Krein. There was also an intriguing piece by Julio Cesar Ibanez called Der Student Geht Vorbei which I immediately recognised as Cupid's Army! It is by no means unusual for music to be given a different title when published in another country.
As usual with these concerts, time passed very quickly and we can only look forward to more of the same next year.
? Brian Reynolds 2019
---
June 2019
Doris Day has passed away at the age of 97
Doris Day [born April 1922] recently passed away [May 13th 2019] at the age of 97.
The American actress, singer and animal welfare activist, [who had been a member of The Robert Farnon Society], was the subject of a fullsome tribute in Journal into Melody issue 158, March 2004, by Richard Hindley
In a subsequent edition [issue 160, September 2004], there was a further news item regarding an honour Doris received from the US President in June of that year.
We are grateful to Tony Foster for bringing these to our attention and are very pleased to reproduce them in our Articles section - click here!
---
May 2019
A Hound and a Horn
An article by Brian Willey about the history of 'Nipper', the HMV listening dog, was published in the October 2018 edition of 'Best of British' magazine and can be found in the articles section of this website. It is reproduced here by kind permission of Brian Willey.
---
April 2019
The Farnon Musical Lineage
An interview with Thomas Farnon by Dan Adams has been posted in the articles section of this website. The article originally appeared in the Spring 2019 edition of the Light Music Society Magazine and is reproduced by kind permission.
---
February 2019
News from Iain Sutherland
Iain Sutherland has been awarded the Gold Badge of Merit by the British Academy of Songwriters, Composers and Authors for Lifetime Achievement and his unique contribution to British music.
He is a Featured Artist on Classic FM.
Recent recordings include:-
"Sailing By: 25 British Light Classics". Iain Sutherland Concert Orchestra. ALC1392. Feb.2019.
"Bernstein: Broadway to Hollywood"Hannover Philharmonie. Somm 5002. Aug. 2018.
[see CD review section]
Forthcoming release May/ June 2019:-
"Love and War": The Greatest Classical Album of Film Music … Ever!"
(Mozart; Walton; Prokofiev; Korngold; Khachaturian; Williams; Steiner; Goodwin).
---
January 2019
Michel Legrand (1932-2019)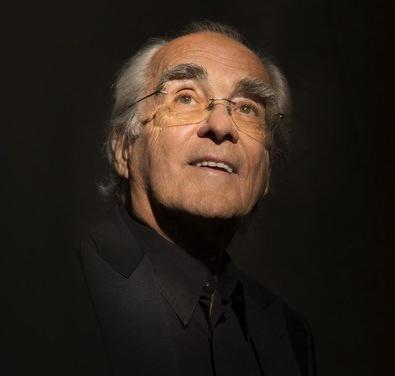 Michel Legrand, who died on 26th January at the age of 86, was a prolific composer of music for over 250 films.
An obituary by Anthony Wills can be read here and Anthony will be paying tribute to Michel Legrand at the next London Light Music Meetings Group gathering on Sunday May 5th 2019.
---
BBC Genome has made 1940s Radio Times magazines
available online for the first time!
BBC Genome has made 1940s Radio Times magazines available online for the first time.
Find them here: https://genome.ch.bbc.co.uk/issues#decade-1940

BBC Genome announcement video (click above)
---
December 2018
VINTAGE WIRELESS AND TELEVISION MUSEUM, DULWICH
An Afternoon of Music - 1st December 2018
Our regular Afternoon of Music took place – for the first time – in our new log cabin. By moving some of the exhibits to one side and filling with chairs, we had more than enough room to seat 20 people. It was very comfortable and the music was enhanced by being surrounded by the wonderful collection of [mainly] Philips and Ekco wireless sets.
Visitors arrived in good time to have a look around the museum, at 1pm, all guests furnished with a cup of tea or coffee and a biscuit settled in for the event.
Tony Clayden opened the proceedings and introduced his guest presenters.
First up was Brian Reynolds, composer, author and radio presenter. Brian is probably the greatest expert on the famous radio programme Music While You Work – which commenced during WW2 as a morale-booster for factory workers and continued for many years thereafter. He has also amassed an amazing collection of off-air recordings of MWYW and similar 'live' music programmes, which were the mainstay of BBC radio until the 60s.
Brian played a selection of light orchestral music, celebrating the vast contribution that the BBC made to this genre through its numerous regional 'house' orchestras.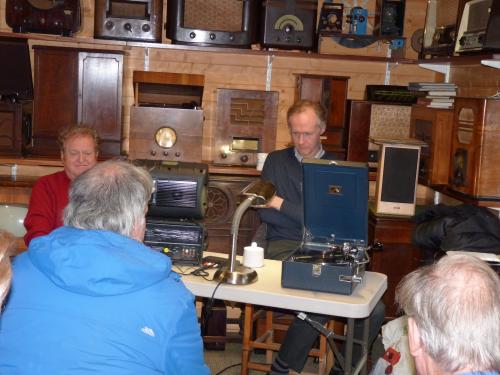 Next was Martin Cleave, whose 'day job' is musical director at the Royal Academy of Dance, London and who came armed, in true Desert Island Discs style, with eight '78' records and a wind-up HMV portable gramophone. Martin played music performed Ron Goodwin and his Concert Orchestra, and from the orchestras of Mantovani, Victor Silvester and Josephine Bradley and her ballroom orchestra. The records were played by winding up the gramophone spring - Tony observed, " think how much money the Museum is saving on the electricity!! "
Martin led us into the interval when chilli con carne, cheese and baked baked potatoes – followed by trifle – was served, and of course more tea and coffee!
Tony Clayden finished the afternoon with a history of Haydn Wood, an important figure in the world of British Light Music. Tony is an authority on the life and work of Wood; he was instrumental in assisting with the production of a very recently released CD, performed by the BBC Concert Orchestra conducted by Gavin Sutherland, recorded in the Watford Coliseum, and issued on the Vocalion Epoch label.
We heard Festival March, followed by Seville from the Cities of Romance Suite and Charles Chaplin from the Three Famous Cinema Stars Suite. Tony also played a number of other tracks from recordings of Haydn Wood compositions, and finished his presentation with the well-known piece 'Horseguards – Whitehall' from the London Landmarks Suite, which was used as the signature tune for the long-running BBC Radio programme Down Your Way.
The afternoon was really a wonderful escape from the miserable weather, in cosy surroundings with likeminded people. Please try and come along to future Afternoons of Music, you are most welcome.
Tony also invited ideas for future programmes and also guest presenters. Afternoon of Music events in 2019 are in March, [Sat 24th] August [Sat 2nd] and December [Saturday 7th].
? John Thompson 2018 https://bvwm.org.uk/
---
November 2018
Long-awaited HAYDN WOOD CD now available.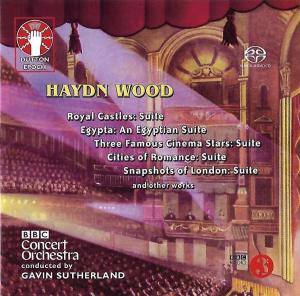 On November 18th 2018, Vocalion Epoch finally released the eagerly anticipated CD of orchestral works by the celebrated Light Music composer Haydn Wood.
Most of the compositions are making their recording debut and all were performed by the BBC Concert Orchestra, conducted by Gavin Sutherland, at the Watford Coliseum, in August 2017.
A full review of the disc may be found
---
August 2018
VOCALION BOOKS
The Mood Modern:
The story of two of the world's greatest recorded music libraries:
KPM (1956-1977) and Bruton Music (1978-1980)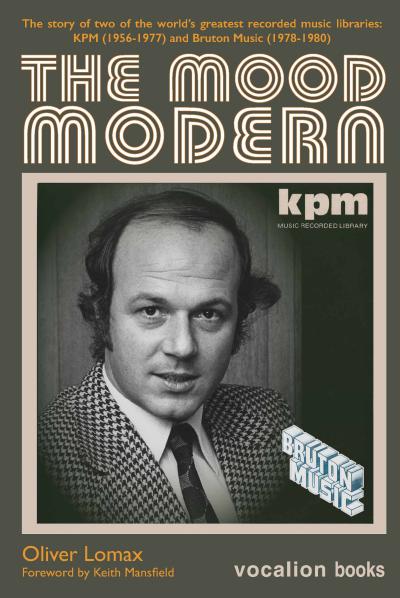 Vocalion Books – a subsidiary of renowned reissue label Vocalion and leading independent classical label Dutton Epoch – presents its publishing debut: The Mood Modern. The product of extensive research, this new book tells the story of KPM and Bruton Music – two of the world's greatest recorded music libraries.
Also known variously as mood, stock, background or production music, for decades library music has made an important though anonymous contribution to the broadcast media, supplying film, radio and television with innumerable themes and underscores.
The Mood Modern is three books in one, weaving together the separate strands of company history, biography and critical assessment of some of the most important music collectively produced by the KPM and Bruton libraries during the course of a quarter century, spanning the years from 1956 to 1980. At the heart of the book, however, is the Phillips family, one of Britain's great music publishing dynasties, but in particular Robin Phillips (1939-2006).
The mid-1960s through the '70s have come to be regarded as library music's golden age. In Britain, it was when this somewhat mysterious branch of the music industry emerged from the chrysalis of its light music heritage, into a vibrant new era of modern, colourful sounds. Robin Phillips played a fundamental role in this transformation when, in 1966, he established a new library – the KPM 1000 Series. Robin would also introduce several new composers who would quickly become some of the best-known and most successful names in the library music field: Keith Mansfield, Johnny Pearson, Syd Dale, Alan Hawkshaw, James Clarke, David Lindup, Brian Bennett and Steve Gray among others. And thanks to Robin's guidance, by the early '70s the 1000 Series had become one of the world's foremost libraries, its music a ubiquitous presence in countless films, documentaries, radio programmes and television series.
But in 1977, at the height of his success, Robin left KPM for ATV Music – taking with him his right-hand man, Aaron Harry, and the major composers – where he formed the Bruton library under the auspices of his brother Peter (who by now was ATV Music's managing director) and show business mogul Lew Grade's financial adviser, Jack Gill.
Drawing on interviews with members of the Phillips family (including Peter Phillips) and many of the composers, recording engineers, musicians and staff of both libraries, The Mood Modern tells the remarkable inside story of how KPM and, subsequently, Bruton came to be dominant forces in library music, both in Britain and internationally.
In addition to charting the origin and history of the music publishing firms – Keith Prowse and Peter Maurice – that merged to form KPM, The Mood Modern covers numerous related areas. These include the birth of Britain's library music industry; the early British libraries and their inseparable link to the English light music tradition; how the arrival of commercial television in Britain led to the formation of the Keith Prowse library in 1956 under the aegis of its manager, Patrick Howgill, which paved the way for the KPM library; KPM's legacy as a famous popular music publisher and its place in the history of Denmark Street (London's Tin Pan Alley); Robin's father, legendary music publisher Jimmy Phillips; the corporate manoeuvring that saw Keith Prowse, Peter Maurice and KPM bought and sold; and the clash with management that eventually caused Peter and Robin Phillips to leave KPM for ATV Music.
The importance of the recording engineer is acknowledged in The Mood Modern, and those who largely shaped the "sound" of the KPM and Bruton libraries are featured: Ted Fletcher, Adrian Kerridge, Mike Clements, Richard Elen (KPM) and Chris Dibble (Bruton Music). There's detailed coverage of all the KPM 1000 Series' overseas sessions – including personnel, dates, locations and what was recorded – and chapters respectively devoted to the sessions in Bickendorf, Cologne (along with the stellar lineup of international jazz talent that played on them) and in KPM's two in- house studios. The Musicians' Union embargo, which had forced British libraries to record much of their material on the Continent, is also scrutinised, as are the negotiations with the MU of the late '70s that finally allowed British libraries to resume recording in British studios with British musicians.
As well as delineating the setting up of the Bruton library, its struggle to get established and the background of the parent company, ATV Music (itself a division of entertainment conglomerate Associated Television [ATV]), Bruton's recording sessions and early output are put under the spotlight.
Another aspect of The Mood Modern is the chapter-length biographical portraits of five of the KPM 1000 Series' principal composers: Syd Dale, Johnny Pearson, Keith Mansfield, James Clarke and David Lindup. This is the first time that any of them have been the subject of an in-depth portrait, and these chapters take in many associated areas: KPM library offshoots Aristocrat, Radio Program Music and the KPM International series; the litany of famous and not-so-famous TV and radio themes within the KPM library; Lansdowne Studios; British jazz and pop; classical music; commissioned film and TV scores; BBC Television and Radio; Independent Television (ITV); the Mechanical Copyright Protection Society; the Performing Right Society; Phonographic Performance Ltd. and so much more.
A host of other composers also feature in The Mood Modern. These include KPM and Bruton stalwarts Laurie Johnson, Neil Richardson, Steve Gray, Dave Gold, Francis Monkman, Brian Bennett, Alan Hawkshaw, John Dankworth, John Scott, Duncan Lamont, John Fiddy and John Cameron as well as the KPM 1000 Series' house bands, WASP and SHARKS.
Putting everything into further perspective is a thorough examination of the pre-1000 Series KPM library, and a chapter that focuses on a leading music editor of the '70s, who describes the processes and equipment that were used in transferring library music onto the soundtracks of films, documentaries and television programmes.
The Mood Modern is not only a major study of a fascinating sector of the music industry, but also essential reading for anyone with even a passing interest in soundtrack music.
The Mood Modern specifications:
Publisher: Vocalion Books
486 pages
Foreword by Keith Mansfield
Hardback and paperback editions
ISBNs: 978-1-9996796-0-6 (hardback) / 978-1-9996796-1-3 (paperback)
Fully indexed
Two sixteen-page photo sections, one in b&w, one in colour, both containing many never-before-published images: from the Phillips family archive, and of composers, musicians, recording sessions, catalogues, music scores and studio brochures
---
August 2018
Boosey & Hawkes catalogue plea
In the 1990s an amazing discographer, the late Eddie Shaw did a superb job putting together the complete Bosworth and Boosey library music disc lists. I have been fortunate enough to acquire his Bosworth catalogue, which is pure gold for musical research purposes, but unfortunately I have not been so lucky with the Boosey equivalent.
The Current Boosey company have said 'try Cavendish', Cavendish have said to me 'never heard of it' and Boosey's official archivist has been completely uncooperative. The Only known copy is in a library in Cologne!
Can I use this forum to send out a plea - Does ANYONE have a copy of the B&H catalogue, who would be prepared to sell it, or just lend it (so I could do a photocopy & then return)
I hope I can repeat this plea at the next Light Music meeting, but in the meantime HELP!! I really need this book, badly for my researches
Thanks
Alex Gleason
(Please reply to Alex via alex@londonlightmusic.org.uk)
---
July 2018
Patrick Williams, Emmy-Winning TV Composer, Dies at 79
Patrick Williams, who was best-known for his Emmy-winning television music but who was also a renowned and Grammy-winning big-band jazz leader and arranger, died on Wednesday 25th July of complications from cancer at St. John's Hospital in Santa Monica, California. He was 79.
See a full obituary here
---
July 2018
The British Vintage Wireless and Television Museum re-opens
After a long period of closure, during which time it has undergone refurbishment and reorganisation, the BRITISH VINTAGE WIRELESS AND TELEVISION MUSEUM
at West Dulwich has now re-opened.
On Saturday August 18th, the Museum will be holding an Open Event, which will include sales, a working display of vintage televisions, and an 'Afternoon of Music' [from recordings] introduced by Tony Clayden, with presentations also by Brian Reynolds and Chris Money.
Full details in our Events section.
---
May 2018
Aspidistra Drawing Room Orchestra
May Concert 2018
Another twelve months have sped by, and it was time for the 2018 May Bank Holiday concert performed by the Aspidistra Drawing Room Orchestra, which took place once again in the Gallery of Lauderdale House, Highgate Hill, in North London. This house has a long history; it dates from 1582 and was briefly the home of King Charles II 's mistress, the famous (infamous ?) Nell Gwyn, whose ghost is reputed to haunt the building even unto this day !
Uncharacteristically glorious weather encouraged an excellent turnout, including several from the LLMMG (and their guests) and an unexpectedly large number of most welcome 'first-timers', in addition to many loyal 'regulars' – some of whom have supported every single one of these concerts during the last sixteen years.
As one of woefully few contemporary exponents of the Palm Court genre, the orchestra always manages to surprise and delight its audiences with new material, which is continually being added to an already extensive repertoire. This year's programme was no exception, and much of the music was totally new to the players !
Their mission is to feature compositions which have been totally forgotten or ignored, alongside more familiar favourites, and these can range from 'the highlights of the Palm Court era to the delightful but obscure', to quote from their concert programme.
Amongst the roll-call of 'more familiar' composers were to be found the names of Jack Strachey, Vittorio Monti (of Czardas fame), George Gershwin (his opus 1, Rialto Ripples) , Albert Ketelbey, Matyas Seiber, Oscar Straus, Haydn Wood, (who lived for some years in Highgate, quite close to the venue), Gerhard Winkler and Cole Porter.
In addition to the purely instrumental pieces, the proceedings were - as always - enlivened and garnished with some songs from Liz Menezes (who also plays second violin) and Camilla Cutts.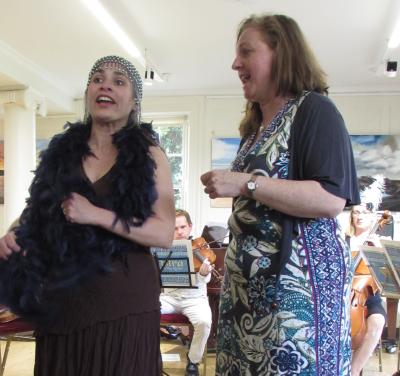 Liz Menezes and Camilla Cutts
As has been remarked upon in the past, the members of the ensemble perform with great competence and enthusiasm, and the Aspidistra Drawing Room Orchestra can arguably be regarded as one of the very best of its type.
Congratulations and very many thanks are therefore due to Adam Bakker and his players for another splendid and extremely enjoyable afternoon of wonderful music.
? Tony Clayden 2018
Pictures above courtesy of Brian Luck
Footnote – The ADRO will be our guests at the next LLMMG event in October, at our usual venue in Central London - click here for full details.
As part of the Camden Fringe Festival, they are also giving two concerts at Burgh House, Hampstead, North West London, on Sunday 19th August, at 2.30 pm and 7.00 pm - click here for full details.
---
May 2018
George Melachrino article by Tony Clayden
You can read a new article written by Tony Clayden about the life and work of George Melachrino which is published in the Summer 2018 edition of Memory Lane Magazine and reproduced here by kind permission.
---
March 2018
Mark Fitz-Gerald concert at 'The British Home'
On the 25th February 2018, light music enthusiasts were in for a treat as it was time for the annual feast of our sort of music given by Mark Fitz-Gerald and his Orchestra as a way of raising funds for 'The British Home' in Streatham, London.
---
March 2018
Two Light Music programmes coming up on Beyond Radio
Two Light Music shows presented by Stephen York are programmed for Thursdays 12th April and 26th April at 6pm until 8pm on Lancashire's Beyond Radio.
A Two hour show of both light & film music on Thursday 12th April at 6pm. There has been a problem with the online schedule list which makes no mention of the light music show, however it will take place at the above time.
Including light music from Wally Stott, Cyril Watters, Vivian Ellis, Robert Farnon, Ashworth Hope and others and film music from Ron Goodwin, Jerry Goldsmith, Alfred Newman, John Williams and others.
You can listen online at http://www.beyondradio.co.uk/page/listen-now-9
---
January 2018
A website dedicated to composer Irving Berlin has been created to mark the 130th anniversary of his birth.
The site is described as the first online, dedicated digital resource for Berlin. He penned more than 1,000 songs, including Alexander's Ragtime Band and White Christmas.
It includes a section that explores his songs, revealing the stories behind them, and photographs from his life. It also provides details of his work in film and theatre as well as information on books and sheet music that are available to buy.
The site has been created by his family and publishers, Concord Music (North America) and Universal Music Publishing Group.
---
January 2018
Friday Night is Music Night - Chichester 2018
BBC Radio 2, Friday 19th January 2018 at 8pm.
Live from the Chichester Festival Theatre - Ken Bruce invites you to take your partners for an evening at the dance. Waltzes, polkas, sambas, tangos, jigs and a grand pas de deux - and you thought Strictly was over! Gavin Sutherland conducts the BBC Concert Orchestra with special guest singers Rebecca Trehearn and Gary Williams.
The programme includes Erik Satie's graceful Gymnopedie No 1; the grandeur of the Emperor Waltz by Johann Strauss; and memories of Fred Astaire and Ginger Rogers in Gordon Langford's medley of tunes from Irving Berlin's "Top Hat" . We invite you to stomp your way through the Mexican Hat Dance and clomp your way through Herold's Clog Dance.
---
January 2018
Radio 2 axes The Organist Entertains and Listen to the Band after 50 years
Radio 2 has axed its long-running shows playing organ and brass band music and given new slots to Jo Whiley and Cerys Matthews in a generational shift at Britain's most listened-to station. The Organist Entertains, which has been on the network for 50 years, is being "rested" with veteran presenter Nigel Ogden retiring. Theatre organist Ogden, 63, has introduced recordings and live broadcasts of pipe and electronic organs, since 1980.
Nigel says: "I'd like to thank my ever loyal audience for their support and messages during the 38 years I've hosted The Organist Entertains. I've loved hearing from them and send them my very best wishes for the future. I'd also like to thank Radio 2 for giving me the opportunity to play the music I love each week - it has been a huge privilege."
Radio 2 has also axed Listen to the Band, its weekly showcase for brass band and military music, presented by 78 year-old conductor Frank Renton. The programme has existed in various forms on the BBC since the Second World War.
The yearly Young Brass Award will remain as a Friday Night Is Music Night special in April; whilst brass and organ music will be included in Friday Night is Music Night weekly programmes throughout the year. Brass will continue to be heavily featured on a weekly basis in Clare Teal's Sunday night show, which celebrates big band music.
Frank says: "My 23 years presenting Listen To The Band have been hugely enjoyable, especially playing so much of the music that I love. It has also been an absolute pleasure being part of the Radio 2 family, and I want to thank all those who have listened or contributed to the programme over the years. Of course the next thing on the agenda is the continued celebration of the talent of young British brass players when Ken Bruce and I present the final of the BBC Radio 2 Young Brass Award in April."
A little merriment for Christmas!
---
December 2017
Another 'It's Time for Light Music' show from Stephen York at Beyond Radio!
This Thursday 14th Dec, between 6pm and 8pm, Stephen York at Lancaster and Morecambe's Beyond Radio will present another in his series of programmes entitled It's Time for Light Music.
This week Stephen calls it The Light Fantastic.
There will be film music by Robert Farnon and Miklos Rozsa, music by Eric Coates, Ernest Tomlinson, Mathew Curtis and others. And of course, some appropriate Christmas music!
---
December 2017
Temporary schedule alteration for David Corbett's 'Light Programme'
Please note that the New Year's Eve edition of David Corbett's 'The Light Programme' on Serenade Radio will be at 6pm until 8pm, just for that week.
---
December 2017
LMS Chairman releases Christmas CD For 2017!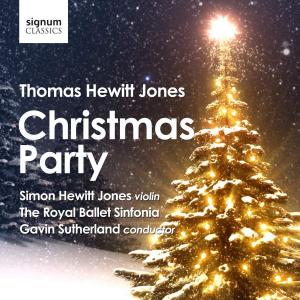 The Light Music Society have announced that a CD of Christmas music by composer Thomas Hewitt Jones has been released on the Signum label. All of the music is by Jones and conducted by LMS Chairman Gavin Sutherland.
The disc, titled Christmas Party, is relatively short in length and contains what has been described as some "naughty fun" for the festive season. Christmas Party, the titular piece on the disc features Simon Hewitt Jones on violin alongside the wonderful Royal Ballet Sinfonietta.
Also featured is Jones' beautiful carol Child of the Stable's Secret Birth with vocal performances from the Choir of Clare College Cambridge.
To round it all off in wonderfully eccentric style is Cameron's Lament, a setting of the tune David Cameron hummed inadvertently while his microphone was still live after his resignation speech in 2016!
This is a Christmas Cracker you won't want to miss!
Click here to visit the website where you can listen to some samples.
---
November 2017
Winter Warmers - Friday 1st December 2017
Friday Night Is Music Night
Brrrrr... winter draws on. The nights are long and dark; the mornings cold and frosty. Join Ken Bruce and the BBC Concert Orchestra conducted by Bramwell Tovey for a selection of winter classics to warm the cockles of your heart. Snow, Ice, Fire, Frost and the cold winter wind as depicted in the world of music. The programme includes music from Dr Zhivago (Maurice Jarre); The Snow Maiden (Rimsky Korsakov); Skaters Waltz (Waldteufel) and The Nutcracker (Tchaikovsky). The guest singers soprano Ailish Tynan and baritone Simon Butteriss perform songs by Lehar, Heuberger and the Savoy operas.
http://www.bbc.co.uk/programmes/b09gfphb
---
November 2017
BBC Concert Orchestra appoints Bramwell Tovey as its new Principal Conductor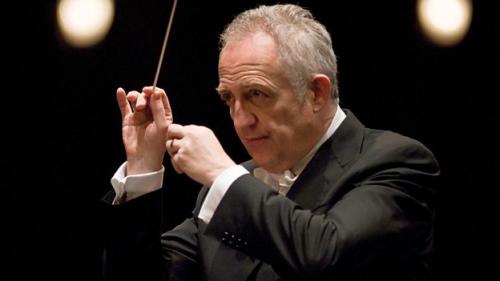 The BBC Concert Orchestra has announced the appointment of Bramwell Tovey as its new Principal Conductor, taking up his position in January 2018.
Tovey's new role will see him work with the orchestra for an initial period of five years including a BBC Radio 3 concert at Watford Colosseum on Thursday 15 February 2018, before a number of performances in the BBC Concert Orchestra's 2018-19 season at Southbank Centre, to be announced. As well as artistic programming, Tovey will take a leading role in the BBC Concert Orchestra's wide-ranging learning and education activities, including mentoring emerging conductors and orchestral players from a range of backgrounds who share the BBC CO's appetite for musical versatility.
Tovey will take the reins from Keith Lockhart, who has been Principal Conductor of the BBC Concert Orchestra for seven years. Keith will continue his relationship with the orchestra in the new role of Chief Guest Conductor and will return next year to conduct a concert showcasing the music of Stephen Sondheim at the Royal Festival Hall (Thursday 15 March 2018). The BBC Concert Orchestra's Conductor Laureate is Barry Wordsworth and Composer-in-Residence is Dobrinka Tabakova.
More information can be found at the BBC website here: http://www.bbc.co.uk/mediacentre/latestnews/2017/concert-orchestra-new-conductor
---
November 2017
RADIO DAYS by Keiron Anderson
Reviewed by Forton Music:
"A large scale wind orchestra piece by Keiron Anderson, paying homage to the Radio Shows of yesteryear.
Workers Playtime starts with a flourish and a fanfare before becoming a jaunty, almost vaudeville like tune.
The second movement, titled Listen With Mother, is a gentle lullaby, before the final movement called Down Your Way marches off into the distance.
The melodies are instantly memorable and attractive, and the material is handled in a mature confidant style with lots of interest in all parts.
Incorporating some sound clips from the BBC, a great set of pieces for inclusion in any program."
Keiron Anderson's website can be found here: http://www.keironanderson.co.uk
Here is Radio Days performed in full by Nottingham Symphonic Wind Orchestra for BBC Radio 3:
---
November 2017
Tony Clayden receives Good Music Certificate
from Evergreen Magazine
Evergreen Magazine has just awarded its Good Music Certificate to the Co-Ordinator of the London Light Music Meetings Group, Tony Clayden.
The first joint recipients of this honour were the late David Ades and Alan Bunting, who did so much to keep Light Music alive.
Sadly, both men died relatively soon afterwards, and Alan's family were left with a huge collection of recorded material, including CDs and on vinyl.
Alan had painstakingly digitally remastered much ofthe latter over a number of years for reissue on several different labels, including the highly–acclaimed Guild series.
Not only did Londoner Tony 'gallop to the rescue' by purchasing and retrieving them all from Alan's home in Scotland, but he had already established the LLMMG – which had come into being after the Robert Farnon Society, led for many years by David Ades – ceased operations at the end of 2013.
The new group, which holds meetings twice-yearly in Central London, has recently held its eighth event. With its links to a number of other music websites and organisations, including the Light Music Society, it continues to promote the genre and helps to avoid the potential disappearance of probably thousands of once–familiar tunes.
A semi-retired recording and sound engineer, Tony is one of a small band of dedicated enthusiasts who recognise the value and worth of Light Music and he has amassed many musical contacts and friends during a long, interesting and varied career.
Tony, we thank you for filling a huge musical void and wish you well, as you continue to make historic and tuneful melodies available to the general public.
Angeline Wilcox, Editor
EVERGREEN MAGAZINE
WINTER EDITION
NOVEMBER 2017
https://www.thisengland.co.uk
---
November 2017
BBC Radio 2: Friday Night is Music Night
Friday Night is Music Night coming up on Friday 17th November 2018 on BBC Radio 2 at 8pm will be a "celebration of music arrangers" including such arrangers as Stanley Black, Robert Docker, Robert Farnon and Gordon Langford.
This programme is a new episode and is not a repeat. Create a reminder to listen, now!
---
November 2017
Play it again: The firm saving vinyl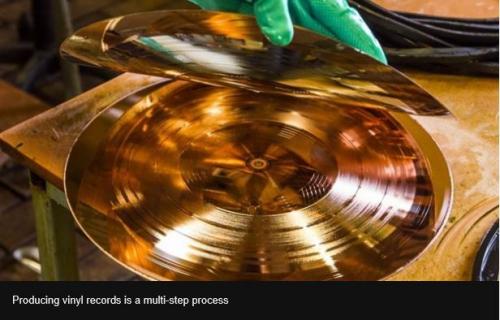 Whether gathering dust in your loft or currently spinning on your turntable, it's a fair bet that at least some of your vinyl records came from a small factory in the Czech Republic.
The facility in question is the headquarters of GZ Media, based in the small town of Lodenice, 25km (16 miles) west of the Czech capital, Prague.
GZ is today the world's largest producer of vinyl records, of which it expects to press 30 million this year, for everyone from the Rolling Stones and U2, to Lady Gaga and Madonna.
More on the BBC website: http://www.bbc.com./news/business-41747615
---
October 2017
A rousing chorus for Harold Rich's 90th birthday celebrations
Friends and family gathered to celebrate the 90th birthday of a 'quite remarkable' but humble music man.
Harold Rich began playing piano at the age of three – and his musical talents paved the way for a glorious career with music at its very heart. The 90-year-old former musical director for BBC's Pebble Mill at One still tickles the ivories on a regular basis – as organist at St Thomas Church in Hockley Heath and for the church choir – Harold's Angels. And it was his Hockley Heath friends and fellow music lovers who joined him to celebrate his milestone birthday.
It is hard to cram Harold's 87 years of musical achievements into just one newspaper article – but, in honour of his 90th birthday, we are happy to give it a go. After taking up the piano as a youngster Harold's life has followed a music path throughout – resulting in an illustrious career, all thanks to his pianist talents.
He served in the Royal Navy from 1945 to 194, where he was the pianist/arranger for the Royal Naval Barracks Dance Band (The Bluejackets) at Devonport. During this period, in 1947, he made his first broadcast – a 15 minute solo spot 'At the piano' from the BBC in Bristol.
In 1945 he won a scholarship to the Royal College of Music, where he studied from 1948 to 1952. There he won the ARCM diploma, and was made a Graduate of the Royal Schools of Music, London. He also won both the Hopkinson Gold and Hopkinson Silver medals, both of which were presented to him by Her Majesty the Queen (then Princess Elizabeth), the College President. In addition he won the Dannreuther prize for the best performance of a concerto during the year 1951 to 1952.
From 1953 to 1959 he was Conductor of the Dudley Choral and Orchestral Society and served on the local committee of the Incorporated Society of Musicians, and the committee of the Dudley Arts Society.
He began his musical career with the George Mitchell Minstrels, and then the Continental Ballet, as one of their respective accompanists.
After a seven-year spell as a music master in a secondary modern school, he became (in 1960) the pianist of the BBC Midland Light Orchestra (which he later conducted, including the Orchestra's first appearance on colour television), and then was appointed orchestral pianist for Norrie Paramor with the Midland Radio Orchestra. He also played with, and arranged music for, Norrie's Big Ben Banjo Band, and was Norrie's piano partner in the group "Pianorama", which Norrie formed. Harold took over this group in 1980, since when (as well as numerous broadcasts) it has made several commercial recordings.
In addition to forming his own broadcasting Quartet in 1961, he was a member of the Palm Court Trio, which, apart from making many radio brodacasts, and a number of records, had the pleasure of playing for Her Majesty the Queen Mother at a private dinner party in Scotland.
In addition to conducting his own orchestra for many broadcasts, Harold Rich became Musical Director for the popular television programme "Pebblemill at One" where he conducted for the likes of Tom Jones, Eartha Kitt, Vic Damone, Nana Mouskouri, Elaine Page and Peter Skellern, and accompanied numerous artists on solo piano. These ranged from 'pop' stars such as Cilla Black, instrumentalists such as the violinist Max Jaffa and the renowned flautist, James Galway, to singers such as Rosemary Clooney, Val Doonican, and operatic stars, including Jose Carreras.
He has, over the years, been the orchestral pianist and soloist for many distinguished Light music conductors, including Stanley Black, Robert Farnon, Geoff Love, Frank Chacksfield, and Ron Goodwin (with the City of Birmingham Symphony Orchestra), to name but a few.
(The above article was published in the Solihull Observer
and written by Chris Willmott 25th Mar, 2017)
---
October 2017
David Mellor on Classic fm - Sunday 22nd October, 7 - 9pm
This week, David celebrates the ever-popular genre of Light Music.
We'll hear the rousing London Suite by Eric Coates, which was inspired by three different streets in 1930s London, and David will take us Stateside for a selection of recordings of music by Leroy Anderson, featuring Arthur Fielder and the Boston Pops Orchestra.
---
October 2017
Classic fm's Full Works Concert
Thursday 12th October at 8pm – 60 Years of The Light Music Society
Listen again here for 7 days:
http://www.classicfm.com/radio/aod/?episodeId=153527fc-9277-4fcb-bd54-cea48a8faf12
The Light Music Society was founded 60 years ago this year, and since day one it has tirelessly promoted and championed Light Music throughout the world. Tonight, Catherine Bott champions this important body by featuring two hours of music by composers who have had connections with the Society and helped make it grow into the organisation it is today.

There are delightful works from past Presidents, including Eric Coates and Sir Arthur Bliss, and distinguished members in whose number are Ron Goodwin and Haydn Wood. In a concert full of hummable tunes and music that'll put a spring in your step,

Catherine also features pieces by familiar orchestral composers who tried their hand at composing lighter music for the concert hall. These include Gustav Holst, whose Moorside Suite is performed by Gavin Sutherland and the Royal Ballet Sinfonia, and George Gershwin's jazz-infused Concerto in F, played brilliantly by Xiayin Wang, accompanied by Classic FM's Orchestra in Scotland, the Royal Scottish National Orchestra.

Ron Goodwin
633 Squadron – Main Theme
Squadron Leader Matthew Little conducts the Central Band of the Royal Air Force

Eric Coates
Three Elizabeths Suite
Reginald Kilbey conducts the City of Birmingham Symphony Orchestra

Arthur Bliss
Things to Come – March
Arthur Bliss conducts the London Symphony Orchestra

Cecil Armstrong Gibbs
Dusk
Ronald Corp conducts the New London Orchestra

Ernest Tomlinson
Suite of English Folk Dances
Vivian Dunn conducts the Light Music Society Orchestra

Albert Ketelbey
Bells Across The Meadow
Barry Wordsworth conducts the Royal Philharmonic Orchestra

Haydn Wood
London Landmarks
Gavin Sutherland conducts the Royal Ballet Sinfonia

Billy Mayerl
Marigold
Piano: Philip Ellis

Edward Elgar
Chanson de Nuit Opus 15 No.1
Julian Lloyd Webber conducts the English Chamber Orchestra

Gustav Holst
A Moorside Suite
Gavin Sutherland conducts the Royal Ballet Sinfonia

Percy Grainger
Handel in the Strand
Kenneth Montgomery conducts the Bournemouth Sinfonietta

Emile Waldteufel
Les Patineurs
Ronald Corp conducts the New London Orchestra
---
September 2017
Concert of British Light Music - 25th February 2018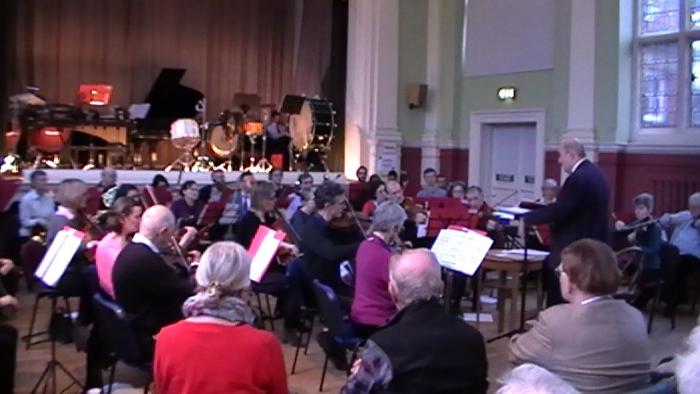 Mark Fitz-Gerald will be conducting his third annual 'Concert of British Light Music' at The British Home in Streatham at 3pm on Sunday 25th February 2018. More details will be available nearer the date on our Events page.
---
September 2017
'The Story of The Light'
A series of two programmes entitled 'The Story of The Light' are to be aired on Mondays 18th and 25th September at 10pm on BBC Radio 2 commemorating the 50th anniversary of the end of 'The BBC Light Programme' when Radio 2 took over.
Our member, Brian Reynolds will be participating in the second of these programmes talking about 'Music While You Work' and light music programmes in general with comparisons to today's radio.
---
July 2017
Robert Farnon's 100th birthday and updated 2005 JAZZ.FM tribute programme
We are grateful to Pip Wedge (former Robert Farnon Society Canadian Rep. and Journal Into Melody columnist) for the following information:
Robert Farnon lovers might like to know that Glen Woodcock, who has been broadcasting big band programmes on JAZZ.FM in Toronto for forty years, is updating a tribute programme he did in 2005 when Robert Farnon died, for broadcast this Sunday (23rd July) to mark what would have been Bob's 100th birthday on Monday (24th).
The programme can be heard via the Internet on Sunday evening at www.jazz.fm, 5:00pm – 10:00pm Toronto time. Unfortunately that puts it from 10:00pm - 03:00am UK time, but maybe some people would like to stay up to hear an hour or so, while others might be able to record it.
---
June 2017
Goon but not forgotten - a blue plaque for Leeds musician Angela Morley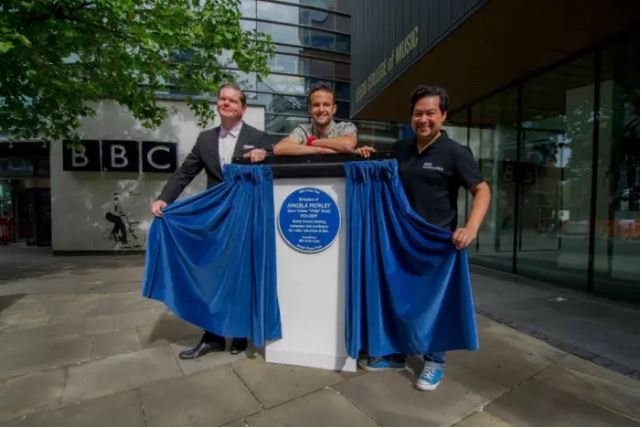 Prof Joe Wilson with BBC presenters Johnny I'Anson, and Nick Ahad unveil a blue plaque in memory of musician Angela Morley
Read more at: http://www.yorkshirepost.co.uk/news/goon-but-not-forgotten-a-blue-plaque-for-leeds-musician-angela-morley-1-8597871
BBC Radio Leeds presented a special morning programme about the life of Angela Morley. As the story was interspersed throughout a three hour programme.
---
May 2017
Aspidistra Drawing Room Orchestra Concert – May 29th 2017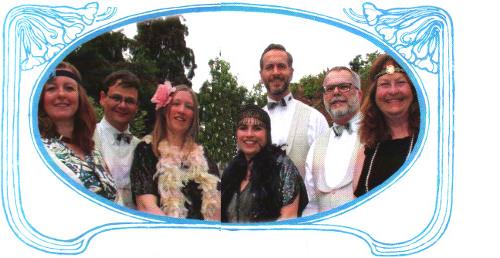 An extensively re-furbished Lauderdale House, in North London's Highgate Village, was the venue for the annual Spring Concert given by the Aspidistra Drawing Room Orchestra. This was their sixteenth consecutive Bank Holiday event, which was well supported by many faithful 'regulars' – including several from the London Light Music Meetings Group – and in addition, a number of 'first timers'.
Amongst the latter was Howard Del Monte, who had travelled from Hampshire to hear a spirited rendering of his father Sydney's composition 'Bows and Bells'. This was a popular
favourite on BBC Radio around fifty years ago. Sydney Del Monte was a guitarist and banjo player, who was a regular member of The Banjoliers for many years.
We were treated once again to an afternoon of fine 'Palm Court' music in contrasting styles; a few 'fast and jolly' compositions, interspersed with some calmer pieces and garnished with some songs performed Liz Menezes and Camilla Cutts.
Nearly one hundred years of musical heritage was represented, ranging from 'light classical' to 'jazzy'. The programme featured a line-up of works, which, with one or two exceptions, have not previously been performed by the orchestra. These included two selections with a definite gipsy influence, from the Russian composer Yascha Krein and G. S. Mathis [a pseudonym of Hungarian ?migr? Matyas Seiber].
Other composers featured included Charles Ancliffe, Sigmund Romberg, Gerhard Winkler and Albert Ketelbey, who made two appearances with pieces written specifically to accompany silent films. A later generation was represented by, amongst others, Horst Jankowski, Ray Martin and Leroy Anderson.
A welcome surprise was the original version of the famous 'American Patrol' by Fred Meacham, in a very different rendition from the familiar arrangement made popular by Glenn Miller and others.
Adam Bakker, who runs and directs the orchestra, has recently acquired the entire collection of sheet music previously owned by Ann Adams, who was the founder of – and for many years conducted – the Ladies Palm Court Orchestra. Four of the items on the programme came from this source. Speaking to Adam during the interval, it became apparent that he faces a mammoth task of sorting and archiving this vast inventory of compositions !
As always, the orchestra's performance was of a very high standard, the players obviously relishing the opportunity to perform repertoire from a 'threatened genre' which, most regrettably, achieves very little exposure these days.
Very many thanks are therefore due to Adam Bakker and the Aspidistra Drawing Room Orchestra, for presenting another really enjoyable concert and especially for continuing to promote 'Palm Court' music.
Tony Clayden
? 2017
---
May 2017
"Andr? Leon's LM Radio Replays"
ANDR? LEON joined LM RADIO in 1963 before taking up an appointment with the
SABC's Special FM Services as a Programme Producer/Compiler/Presenter in the
Johannesburg Studios.
He left South Africa in 1969 to live in the UK and has since worked in the Film, Music and Radio Industries.
Over the years he worked for Decca Records, Carlin Music, Chappell's Recorded Music Library and Boosey & Hawkes.
He was a regular contributor at the Robert Farnon Society Meetings.
Andr? was the pioneer "Test Transmissions Voice" for Classic fM prior to their official launch in September 1992.
He was then appointed as the main late-night and Early Breakfast show host together with Robert Booth from BBC Radio 4.
He is visiting South Africa in June 2017 for a celebration at LM RADIO and has prepared a series of 3 one hour programmes for the Station paying tribute to presenters past and present.
He will also feature the music of the 1960's and talks to a selection of famous stars of that era, including Adam Faith, Judith Durham, Cliff Richard and Peter Sarstedt. You will also hear how Tony Hatch came to write "Downtown" for Petula Clark!
---
April 2017
Gordon Langford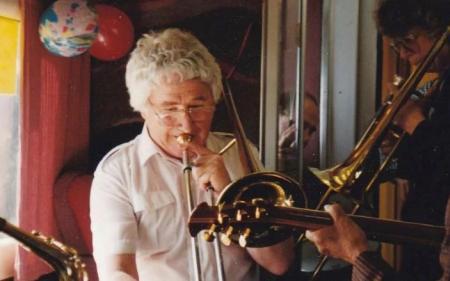 Gordon Langford, who has died aged 86, was an English composer, arranger and performer. He is well known for his brass band compositions and arrangements. He was also a composer of orchestral music, winning an Ivor Novello award for best light music composition for his March from the Colour Suite in 1971.
Langford's career had a notable relationship with the BBC. Some of his compositions and arrangements were used as Test Card music in the 1960s and '70s, with such titles as Hebridean Hoedown, The Lark in the Clear Air and Royal Daffodil being remembered by Test Card aficionados. He also wrote and arranged music for Friday Night is Music Night, as well as numerous other BBC programmes.
A fuller obituary by Tony Clayden appears here.
Listen to Friendly Street from the album "Langford: Light Music Vol. 1"
https://www.youtube.com/watch?v=iqWLOETQeEI
---
April 2017
Heinz Herschmann
Tony Clayden writes –
"It has only just come to my attention that the composer and pianist Heinz Herschmann sadly passed away, aged ninety, in September 2014.
Heinz had been a regular attendee at meetings of the Robert Farnon Society for many years, and signified his support for the LLMMG when it was formed earlier that year.
Born in Vienna, Austria, in 1924, he fled from the Nazis just before WW2, arriving in England on the Kindertransport.
I am preparing a full tribute to Heinz which will appear on our website in due course."
---
February 2017
Review - Concert of British Light Music - 26th February 2017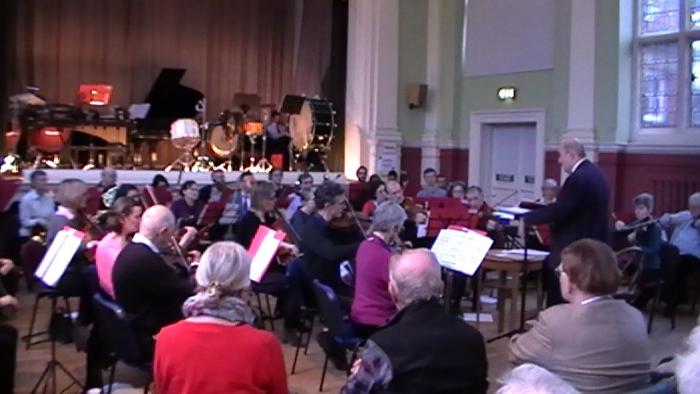 A cold, wet, and windy Sunday February 26th saw a second concert of British Light Music performed by the Mark Fitz-Gerald Orchestra. The venue was once again the British Home and Hospital in Streatham, South-West London. The event followed-on from the success of the first concert in 2016, and was held in aid of funds for the Home. Read the full review
---
February 2017
New Light Music programme on Serenade Radio
David Corbett reports that he will be presenting a new 'Light Programme' on the internet radio station Serenade Radio on Sunday evenings between 10pm and midnight starting on 5th March 2017.
Serenade Radio also currently broadcast unannounced Light Music for an hour each day starting at 6am.
---
February 2017
Angel Radio
Brian Reynolds reports that programmes from Music While You Work and from Those Were The Days are broadcast weekly by internet local radio station Angel Radio who are based in Havant, Hampshire and specialise in "Nostalgia Radio"
Music While You Work - Fridays 12.15pm to 1pm
Those Were The Days - Sundays 4.30pm to 5.30pm
---
ANDRE LEON'S RADIO REPLAYS FOR CHRISTMAS
RADIO SIX INTERNATIONAL
I've sent Radio Six International a 2 hour Christmas Show. I understand that it will be scheduled over The Xmas period.
Dates should be on the Radio Six International website around December 17th 2016.
I hope that this will be of interest to Members of the London Light Music Meetings Group.
.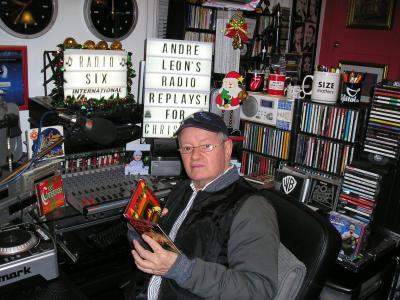 Join us for 2 hours on a "Christmas music sleigh ride" and hear three different and novel arrangements of Jingle Bells!
There's lots more including:
Teresa Brewer serves up Christmas Cookies,
Dickie Valentine recites his Christmas alphabet,
Petula Clark delivers a special Christmas Card,
Adam Faith remembers a Lonely Pup,
Val Doonican recalls the Mysterious People
The BBC Concert Orchestra introduces
their Waltzing Cat!
Some of the greatest crooners are also on board for the ride and there's a very special
tribute to the Mull of Kintyre by the Vienna Symphonic Orchestra!
Join Andre Leon in a Nice Radio Production for Radio Six International
---
October 2016
Stephen Hough Takes Light Music to Desert Island!
International concert pianist, arranger and composer Stephen Hough appeared on Desert Island Discs on the morning of Friday the 14th October. Among the wide ranging music he chose for the programme was Birdsong at Eventide: a light music classic by Eric Coates.
Stephen Hough discovered he liked playing the piano when he went to visit his aunt's house and could pick out more than one hundred nursery rhymes on her piano. After much pestering, his parents bought him a cheap second hand piano from an antique shop. He went on to become one of the youngest students at the Royal Northern College of Music before winning a scholarship to The Juilliard School in New York.
His career began in 1983 after winning the Naumberg Piano Competition. He divides his time between New York and London and performs all over the world. He also has a prolific recording career and has won many awards for his discs.
You can hear the full broadcast or download the MP3 here:
http://www.bbc.co.uk/programmes/b07x1lhl
---
October 2016
John Parry R.I.P.
From Forrest Patten:
Dear Tony,
I received the word this morning that our longtime RFS member and colleague John Parry passed away (yesterday) in Florida at age 76.
John, outside of being one of the original members of the RFS, was involved for a number of years at Chappell's in London before re- locating to Toronto and starting his own production music library, Parry Music.
Thanks for all you're doing to keep things going.
Take care,
Forrest
---------------------------
From David Farnon:
Hi Tony
Many thanks for sending me this. I didn't know.
He was a lovely man and a good friend who did a lot for Bob's music.
Hope you're keeping well.
Kindest regards,
David
---
September 2016
Tony Clayden acquires the record collection of the late Alan Bunting
Alan Bunting, who passed away in January 2016, amassed a huge collection of CDs, LPs, '45' and '78' rpm records, all of which have now been purchased from Alan's family by Tony Clayden.
Amongst several thousand items are a great number of light-orchestral recordings by Percy Faith, Ray Conniff, David Rose, David Carroll and many others. Some are in mint, unused condition, whilst many others had been pre-owned and were obtained by Alan from all over the world.
Also included is a very large collection of record catalogues, many dating-back to well before WW2, and a selection of music reference books.
These will all require a great deal of sorting-out, but eventually it is hoped to produce a definitive list.
In the meantime Tony invites preliminary enquiries from serious enthusiasts who are potentially interested in this material. He may be contacted as follows:-
by email - tony@amc-comms.co.uk
by telephone - 020-8449 5559 (from outside the UK +44 20 8449 5559)
by post - 49 Alexandra Road, Well End, BOREHAMWOOD, Hertfordshire, WD6 5PB, England.
---
July 2016
Radio 2 Musicals unearthed for the first time in 20 years
BBC Radio 4 Extra (on DAB and online) is currently broadcasting a selection of classic Broadway musicals. These were produced for Radio 2 by John Langridge and broadcast in 1994; they have not been aired since. With the exception of Sweeney Todd (a National Theatre production) they were recorded in front of invited audiences
at the Golders Green Hippodrome and feature star-studded casts plus the Stephen Hill Singers, accompanied by the BBC Concert Orchestra. They are complete performances including dialogue.
The shows are:-
Saturday July 16th SWEENEY TODD with Denis Quilley & Julia McKenzie
Saturday July 23rd GUYS & DOLLS with Mandy Patinkin & John Challis
Saturday July 30th CAROUSEL with Mandy Patinkin and Janie Dee
Saturday August 6th JESUS CHRIST SUPERSTAR with Roger Daltrey & Tony Hadley
Saturday August 13th KISMET with Michael Ball & Dolores Gray
All transmissions start at 9.00 am
All are available to listen to via the i-Player for 30 days after transmission.
Anthony Wills
---
July 2016
Marni Nixon, known as Hollywood's "invisible voice", has died aged 86
The singer appeared, uncredited, on many of the biggest movie musicals of all time - dubbing the voices for Deborah Kerr in The King and I, and Audrey Hepburn in My Fair Lady.
She also sang the high notes for Marilyn Monroe in Diamonds Are A Girl's Best Friend; and "ghosted" Natalie Wood's vocals on West Side Story.
Nixon died of breast cancer on Sunday, her agent confirmed to the BBC.
For most of her career, the classically-trained musician remained unknown. Twentieth Century Fox made her sign a contract saying she would never reveal the ghost-singing on The King and I. The story only came out later, when Kerr herself credited Nixon's work in a press interview.......
htp://www.telegraph.co.uk/obituaries/2016/07/2/marni-nixon-hollywood-voice-ghostess--obituary/
---
June 2016
Harry Rabinowitz, composer and conductor, has died aged 100
The composer and conductor Harry Rabinowitz, who conducted the scores for more than 60 films including Chariots of Fire, has died aged 100.
Born in Johannesburg in 1916, he came to England in 1946 to study at London's Guildhall School of Music and Drama.
He made regular appearances on TV and radio in the 1950s and '60s, working with the likes of Stanley Holloway, Terry-Thomas and The Goons.
He was a conductor on BBC Radio and went on to become head of music at BBC TV Light Entertainment, before moving to London Weekend Television in 1968.
He remained there until 1977 - the year he became an MBE.
Appearing on Desert Island Discs last year, Rabinowitz attributed his success to his learning to read music "very quickly and very accurately" at an early age.
Rabinowitz had been due to take part in a concert with the London Symphony Orchestra at the Barbican in London in November to mark both his birthday and his long career.
A fuller tribute to Harry Rabinowitz can be found in the Obituaries Section.
---
May 2016
Aspidistra Drawing Room Orchestra
Spring Bank Holiday Concert 2016
A rather chilly Monday May 30th saw the 2016 Spring Bank Holiday Concert given by the Aspidistra Drawing Room Orchestra. This was their fifteenth consecutive event and, after a number of years at Lauderdale House in Highgate,(North London), for this year the concert returned to its original 'home', Burgh House in Hampstead.
This has a fine, if somewhat compact, music room, which was totally filled to capacity; this did not deter the audience, which included several LLMMG 'regulars', from enjoying a really splendid afternoon of high quality 'Palm Court' music.
The latter is very much a 'threatened genre' and opportunities for hearing live performances are, sadly, few-and-far- between in an age where it has been totally abandoned by music publishers and the BBC alike.
The orchestra has, however, managed to amass a considerable collection of sheet music which includes compositions from Europe, America and the UK.
We were treated to a wide-ranging selection of pieces, some by well-known composers such as Edvard Grieg, Reginald King, Montague Ewing, Haydn Wood and Ivor Novello. Other, less familiar names also figured prominently, and included a wonderful work by Theo Bendix - The Butterfly - featuring an amazing virtuosic performance on the flute by newcomer Zara Jealous.
The repertoire included both purely instrumental and, additionally, vocal numbers performed by Camilla Cutts and also Liz Menezes, who is the orchestra's second violinist.
Some of the items were quite familiar even if their names were less-so, e.g. Serenata (Rimpianto) by Toselli and Whistling Rufus by Kerry Mills.
The orchestra performed with its customary combination of precision, panache and great enthusiasm; it's obvious that the players very much enjoyed these works as much as the audience did !
So, once again, many congratulations are due to Adam Bakker and the Aspidistra Drawing Room Orchestra for continuing to 'fly the flag' for the noble art of 'Palm Court'.
? Tony Clayden 2016
---
April 2016
Three English Dances by Roger Quilter
For many years I have wondered why it is that whilst Roger Quilter possessed considerable talents as an orchestrator, this well-known work is almost always performed in an orchestral arrangement by Percy Eastman Fletcher.
The mystery was finally solved recently when I happened to be in contact with Dr Valerie Langfield, who is a music teacher and tutor based near Manchester. Dr Langfield has taken a great interest in the life and work of Quilter, and is the author of a very comprehensive and highly-acclaimed biography of the composer.
The definitive answer is that the Dances were originally conceived and written for full orchestra. Percy Fletcher was then commissioned to re-score the work for much-reduced forces, because it was considered likely to maximise its potential for sales and hirings in that form.
(It appears that Fletcher often undertook arranging work of this kind. I have come across another example - viz. his orchestral arrangements of some pieces by Samuel Coleridge Taylor, which I believe were made after their composer's death).
The original full-orchestral score was never printed, and because it only exists in manuscript form it is seldom, if ever, performed.
Roger Quilter himself made and published further arrangements for solo piano and piano duet; the latter was given by Dr Langfield and fellow-pianist David Owen Norris at a Quilter festival some years ago.
Tony Clayden
? April 2016
---
April 2016
NEW Mantovani DVD release in April
Mantovani was the most successful orchestra leader of his time, selling over 60 million albums in his career. He also recorded over 30 half-hour TV specials in 1958 and For Lovers Everywhere includes three superb TV shows on a theme: Music for Latins features sensual tango rhythms; Music from Many Lands showcases love songs from around the world; and Musical Holiday takes us to the romantic capitals of Europe. Special guest singers include Petula Clark and John Conte. The DVD also includes comments from Ken Bruce, Len Goodman and Paul Barrett.

DVD Trailer
Available from http://www.classicfilmsdirect.com
---
April 2016
On 25th February 2016, a performance of Robert Farnon's 'Prelude to the Lake of the Woods' was given in Kenora, Ontario, Canada.
Our concerts are held in Knox United Church in Kenora, Ontario. The orchestra is the Thunder Bay Symphony. Thunder Bay is 550 km east of Kenora; it is part of their mandate to perform in the smaller communities in Ontario.
We have had the orchestra perform here for over 35 years. This concert featured the composition by Robert Farnon, entitled Prelude to the Lake of the Woods, which is where Kenora is situated. The lake features 14,524 Islands and goes as far south as Minnesota in the USA.
The composition by Robert Farnon was found in the archives of the local museum. We couldn't find the individual parts anywhere, so we had the score transcribed for the Symphony. This was a very successful evening as it not only featured the music but outstanding photographs of the lake area.
We are not 100% sure that Robert ever visited the area, however, after setting the music to the photographs we have convinced ourselves that he must have. The pictures were shown on a large 75" TV sitting on top of the organ console that is visible in the right corner of the photo.
Len Mark

Robert Farnon wrote this piece about our beautiful 'Lake of the Woods' in the early fifties. This video features my photos taken mostly of the northern portion of Lake of the Woods.
Wayne Kelso
---
March 2016
ALAN BUNTING
It is with the deepest regret and profound sadness that we have to report the death of Alan Bunting on Wednesday March 16th 2016, after a short illness.
Alan was one of only a handful of premier experts in the field of digital recording restoration in the UK, and over the years carried out a great deal of such work, especially for many record companies active in the field of reissues.
Together with the late David Ades, Alan was instrumental in the establishment of the Golden Age Of Light Music series of CDs for the Swiss Company Guild Records, contributing to both the technical and repertoire aspects of what would become a phenomenally successful project.
After David's death in 2015, Alan assumed responsibility for the overall management of the series and several more CDs were produced. At the time of his death, further titles were under discussion although only one, Great American Light Orchestras Vol. 4, has been fully completed, and will be released in mid-2016.
A fuller tribute to Alan can be found in the Obituaries Section.
Our sincerest condolences are extended to his son, daughter and grandchildren.
Tony Clayden
March 2016
---------------------------
Alan will be sorely missed.
I treasure my copy of his Percy Faith discography.
May he rest in Peace.
Peter Elsdon.
---------------------------
From Peter Burt:
That's really sad news about Alan and a big shock.
He will certainly be much missed.
---------------------------
Alan deserves credit for all the Light Music restoration he has done, which must be in the thousands.
He and David Ades did so much together – yet they only ever met once!
Peter Worsley
Assistant Editor, This England & Evergreen magazines
---------------------------
Tony Foster writes:
I have just seen your communication regarding the death of Alan Bunting, what sad news.
I obviously did not know Alan personally, but together with David Ades, they were a fine team in working together to provide we – who love Light Music so much – many hours of listening pleasure, with all their hard work in creating the Guild series of CDs.
This really is the end of an era. He will be much missed.
---------------------------
Martin Eccles writes –
Hi Tony –
Re: Alan Bunting and David Ades
Obviously you knew these two wonderful men better than most having been so heavily involved with the RFS, but I can tell you that although I was never forunate enough to meet them in person and only spoke to them over the telephone, their genuine warmth, enthusiasm and willingness to share their extensive knowledge of the music business – and in particular recorded music for orchestra, was very touching. Alan often had me in stitches laughing at some of the stories he shared with me as a BBC producer and his having to deal with awkward artists with over inflated egos and of a particularly volatile personality! He struggled, at times having to tread so carefully and diplomatically with many of them.
With Alan's knowledge of the work of Percy Faith, he would often contact me regarding a certain Faith recording, asking me if I could help identify in musical terms particular aspects of orchestration and arrangement of how Percy Faith had created specific orchestral affects in his arrangements – which I was very happy to do for Alan, being a violinist and woodwind player myself.
On many occasions David Ades was most kind in helping me identify certain orchestral recordings I was trying to find and was never stinting of his time spending many hours seeking out information to pass on to me. I don't know how Moira was able to cope with David's time spent in running the RFS and editing the excellent magazine. He was a very dedicated man for the cause of orchestral music.
Not only have we lost two extremely knowledgable experts and indeed "giants" of the music industry, but two of the most genuine, warm and affable men it has been my pleasure to know. The world is a much poorer place for their loss.
With all good wishes,
Martin Eccles
---------------------------
Sad news re Alan Bunting, his expertise was made apparent to me via his work for the Nelson Riddle Society,and many other recordings, especially,the, 'Golden Age of Light Music'.
He will always be remembered in RFS.
Phil Napier (Leyland, Lancashire.)
---------------------------
From Terence and Grace Gilmore-Jones
How very sad and what another great loss this is to the world of Light Music. We mourn his passing, as we did that of dear David, but we thank them both for an amazing achievement over many years, not least in the incredibly notable and valuable Guild series most recently. That will stand as one of the greatest monuments to high professionalism both musically and technically, revealing – as it does – the enormous field of high-grade Light Music, superb performance standards which reach back many decades, and all recollected in the booklets with faithful and accurate detail.
Bravo David and Alan – THANK YOU BOTH SO MUCH. Always remembered with admiration and gratitude!
---
February 2016
Musical Variations: The Life of Angela Morley
Still available on BBC iPlayer:
http://www.bbc.co.uk/programmes/b0714nhm
Stuart Barr uncovers the colourful career of British composer and transgender pioneer, Angela Morley.
In 1972, Wally Stott's transition to Angela Morley made front page news. Wally was famous. He was composer for the Goon Show and Hancock's Half Hour, and music director to stars like Frankie Vaughan and Shirley Bassey. "TV Music Man changes his sex" screamed the headlines. Where would Angela go from here? Stuart talks to Angela's friends and colleagues to discover how she made her mark in the music business, as a woman and a man. And he explores the special qualities of the music she wrote and arranged, from the famous 'Hancock' tuba theme to her work alongside John Williams on blockbusters like Star Wars and Superman.
---
January 2016
RONALD CORP TURNS 65
Ronald Corp OBE turned 65 on 4th January 2016. Ronald Corp was born in Wells, Somerset in 1951, and now resides in a converted watermill in rural Essex. As one of Britain's most prolific Composer-Conductors, he has a busy schedule of concerts, rehearsals, education workshops, community projects, overseas tours and recording sessions as a foil to the many meditative hours he devotes to his life-long passion of composing. Read the full biography on his website here.
More details about Ronald Corp's Hyperion Recordings here
---
MOIRA ADES R.I.P
It is with profound sadness that we report the death of Moira Ades, wife of the late David Ades, on 27th December 2015.
Moira was admitted to hospital in mid-December to undergo an emergency surgical procedure. Whilst initially this appeared to have been successful, she then developed post-operative complications, which unfortunately her doctors were unable to resolve.
It is hoped to publish a fuller tribute to Moira in due course.
Our sincere condolences are extended to her daughter Fenella, her two grandsons James and William, and her son-in-law Barry.
Tony Clayden
30 / 12 / 15
---
November 2015
NEW VOCALION CATALOGUE
Vocalion have just issued their new 2016 catalogue.
An exciting selection of new CDs will be available in time for Christmas and include Easy Listening, Light, Latin, Film Soundtracks/LibraryMusic,
Jazz/Soul and Dance Bands/Big Bands. Artistes featured include Henry Mancini, Floyd Cramer, Paul Mauriat, Caterina Valente, Cleo Laine, Neal Hefti, John Dankworth, Victor Silvester, Ted Heath, Jack Hylton and Geraldo. The listings also include a number of back catalogue re-issues, featuring, among others, Roy Fox, Carroll Gibbons, Henry Hall, Ray Noble, Ambrose, Ted Heath and the Queen's Hall Light Orchestra.
In addition, there is a huge range of existing titles all still available.
The catalogue can be obtained from Vocalion - info@duttonvocalion.co.uk or by telephone 01923 803 001. The company operates a mail-order service – their postal address is PO box 609 Watford WD18 7YA England.
---
October 2015
LATEST GUILD LIGHT MUSIC RELEASES
June 2015
COMPOSER ERNEST TOMLINSON HAS DIED AGED 90
English light music composer Ernest Tomlinson, known for orchestral pieces including An English Overture, Little Serenade, Cantilena and Woodicock, has died aged 90.
Tomlinson was Chairman of the Light Music Society from 1966 to 2009 and subsequently President.
'Ernest Tomlinson will be warmly remembered as long as people enjoy listening to melodic music,' said soprano and broadcaster Catherine Bott. 'Light music is all about melody and enjoyment, always beautifully crafted and full of colour. Ernest was among the very best of British light music composers, his exceptional technical skills allied to a rare gift for melody.'
---
June 2015
JAMES LAST
The death has been announced of James Last, the German orchestra leader, in Florida, at the age of 89.
---
May 2015
THANKS.....
Dear LLMMG,
Many thanks for yesterday's "feast" of light music, and special thanks to both Tony for technical and procedural direction (albeit with some comical antics) and Albert for a very touching and too short tribute to dear David Ades who is, and will be for years, much missed indeed. Thankfully we have such a great deal to remember him by and admire him for. And Albert was just the right person to pay tribute on behalf of us all.
Look forward to next time – and hope my train from Wales won't experience such delays again!
All greetings and good wishes,
Terry
[Terence Gilmore-James, 11th May 2015]
---
April 2015
2015 CLASSIC FM HALL OF FAME
Iain Sutherland has announced that six of his recordings which are regularly featured on the Classic FM playlist were voted by listeners into the list of top 300 titles in the 2015 CLASSIC FM HALL OF FAME. They are:-
48. SCHINDLER'S LIST. JOHN WILLIAMS. B000026BIG
109. GEENSLEEVES. R.VAUGHAN-WILLIAMS. SOMMCD 0117
128. ELIZABETHAN SERENADE. RONALD BINGE. SOMMCD 0117
149. ENGLISH FOLK SONG SUITE. R.VAUGHAN-WILLIAMS. ALC 1192
252. WALKING THE DOG. GEORGE GERSHWIN. ALC 1206
270. THE WATERMILL. RONALD BINGE. ALC 1192
---
February 2015
DAVID ADES
It is with deepest regret and profound sadness that we announce the death of David Ades, after a prolonged illness borne with great dignity and fortitude. David passed away peacefully on 21st February 2015 in a hospice near his home in Somerset, surrounded by his family.
A full obituary can be found here.
David's funeral will take place on 10th March and will be a small, private family event.
Donations in David's memory may be made to his chosen charity which is 'Diabetes UK'.
---
February 2015
WE REGRET TO ANNOUNCE THE DEATH OF PETER MARTIN
ON JANUARY 31st 2015
AT THE AGE OF 93
Peter Martin will be best remembered for his work with the BBC West of England Players which he directed from 1960 to 1965 and subsequently for occasional guest appearances conducting the BBC Radio Orchestra. He was a brilliant pianist and composer.
---
February 2015
WE REGRET TO ANNOUNCE THE DEATH OF JOHN FOX (b.1924)
ON FEBRUARY 10th 2015
AT THE AGE OF 90
John was a multi-talented arranger, composer and conductor and worked for many years in that capacity with the BBC Radio Orchestra. In addition, he wrote for TV and Film, and his particular interest in in vocal music led him to form the John Fox Singers.
---