HIGH HEELS
(Trevor Duncan)
Analysed by Robert Walton
When David Rose wrote Holiday for Strings he probably didn't realise he had hit upon a formula so original it was destined to be emulated all over the world with varying degrees of success. It was the first all-in-one modern mood music piece containing two basic human emotions - humour and passion, sitting quite comfortably side by side. Whatever your taste in music it's a fair bet something in Holiday for Strings appealed. The fact that it sold a million seems to suggest Rose got it right! That was the green light for many other composers to try their luck with the new style. Although its phenomenal success was never equalled, the format proved to be a godsend to the mood music industry. So the mould was set in stone. From this prototype came a flood of similar pieces like All Strings and Fancy Free, Melody on the Move, and A Canadian in Mayfair.
Another composition clearly coming from that source was High Heels, but because it was never exploited for background music like other high profile tunes, it remained comparatively unknown. However once it had been included in radio programmes in its own right, it quickly endeared itself to light music lovers who went straight out and bought the Sidney Torch recording. It was no million seller, but it had instant appeal and became a light orchestral classic.
It's almost certain that the high heel was another invention of the great Leonardo da Vinci in the early 1500s. Fast forward about four hundred and fifty years to another Leonard (Trebilco), who as Trevor Duncan wrote the definitive musical fashion statement on the subject in 1949, inspired no doubt by the accompanying shoe design of Christian Dior's New Look - a return to classic femininity with a nipped waist and wide skirts. And this was two years before the stiletto heel!
Right from the outset, pizzicato strings with a French horn overlay give us a taste of jazzy syncopation known as Scotch Snap before leading us gently into the main melody. The first five notes are the same as Humoresque but after that, unlike the Dvorak composition, they go straight up the scale. Then comes the first of two triplets that give the composition a real identity. There's nothing quite like them anywhere else in light orchestral music. Coupled with this crisp little tune it creates one of the most satisfying experiences in the genre always producing the feel-good factor. In fact I still can't help smiling each time I hear it!
After that warm mellifluous experience, the violins now bowed, leap into action setting the piece alight with a thrilling Torch inspired tune, due in no small part to more of that syncopated rhythm we heard in the introduction. There's also a good example of portamento (sliding between two notes). Decorating the sustaining chord at the end of the first natural break, the horn is brought back into service with three well chosen descending chromatic notes. On the repeat, the strings go up a gear, indeed an octave, singing out even more dramatically. The goose pimples should be working overtime. For me this passage was the defining moment of the entire piece.
At this point you would normally expect a return to the main melody, but unlike Holiday for Strings, it has another tune tagged on like an afterthought, as the violins with brass support, hurry on down to their lower register. As soon as it's over, we go straight back for a repeat of that stunning string passage before returning to the opening pizzicato. Any other composer might well have decided to finish as he/she started, but not Trevor Duncan. With the bows quickly restored to the strings, he comes up with one of the most joyous of codas. The harp sweeps up to a living, breathing mass of strings in harmony, and then unison violins building up to a tremendous climax, head off to the heights for a glorious closing melody, before diving down to end on a quiet note.
Unlike the more traditional light music fare from an earlier age, High Heels hasn't dated. This mid 20th century masterpiece has retained its freshness right up until the present day. As long as there's a continuous appetite for this kind of music, and there's no reason why there shouldn't be, Trevor Duncan's attractive melody and consummate orchestration will be heard many centuries from now.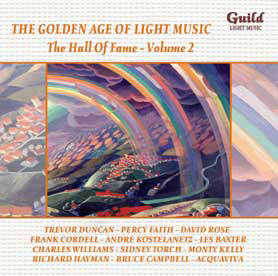 High Heels, in its original Boosey and Hawkes library version, may be found on GUILD GLCD 5124 – 'The Hall Of Fame, Volume 2'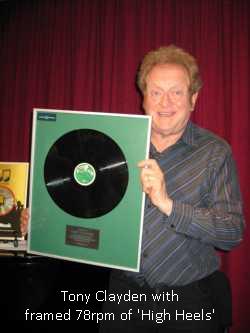 Tony Clayden was presented with a framed copy of the original 12" Boosey and Hawkes '78' record of 'High Heels', bearing the autograph signature of Trevor Duncan, at the inaugural meeting of the London Light Music Meetings Group in May 2014.