This article originally appeared in the Spring 2019 edition of the Light Music Society Magazine and is reproduced here by kind permission.
---
The Farnon Musical Lineage
Interview with Thomas Farnon
by Dan Adams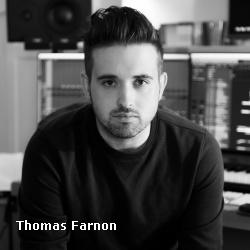 In Robert Farnon, we have an undisputed great of the Light Music Genre. In fact, we could argue that he all but created a form of light music, the ripples of which have been felt ever since. The effect on Bob's immediate family has clearly also been profound.
Robert's son David is a composer and conductor also, who has produced music for dozens of popular TV shows including Jonathan Creek, Miss Marple and Spongebob Squarepants. During the 1980s, David's work was largely in conducting and he has worked with numerous prestigious orchestras including the Royal Philharmonic, London Symphony and London Philharmonic.
Robert Farnon's brother, Brian, was a bandleader and his other brother Denis was also a TV composer. Now, another generation of Farnons is making waves in the music world. Robert's niece Nicola is a celebrated Jazz musician and his grandson Thomas is a film composer.
Thomas has worked with film composers as illustrious as Hans Zimmer as well as contributing music for a variety of films including The Dark Knight Rises, Churchill and Hacksaw Ridge. Recently, Thomas has co-founded Chromium Music Group, a boutique music house and has been releasing albums of his non-film work under this label. The first album, A, was released last year and this year he released his second album Reverie. Both albums are for piano and string orchestra and evoke numerous emotions and images for the listener. This interview with Thomas was conducted shortly after the release of the Reverie album.
*****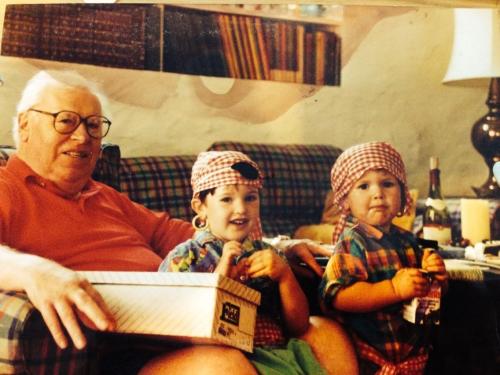 The Farnon Grandchildren with Robert
The first thing I'd really like to ask is a relatively general question – do you yourself have any particular memories of Robert Farnon ?
I have lots of great memories of Grandpa. Musically, one that stands out is that I helped him to sort his Music library out. We both lived in Guernsey, so I would go to his house and we would rifle through his back catalogue together, tidying up the sheet music and archiving it. I would ask him lots of questions, and it was very inspiring as a child to get a behind the scenes look at how he did his thing! Aside from that, we used to talk a lot, be it about our shared love of Arsenal, or how my piano playing was going. He also tried (and failed) to get me playing the drums at one point; I still have the practice pads….
Clearly you've had a very musical upbringing with your studies, but was there also an influence from your grandfather on your musical development ?
Hugely- the music I grew up with was Grandpa's and my Dad's [ David]. I think it's very inspiring seeing someone do something that feels like a hobby as a job. I think harmonically I've taken a lot of inspiration from him, we loved similar composers, Debussy, Ravel etc. and I used to and still do listen to his music a lot. " How Beautiful Is Night", "Intermezzo For Harp" and "Lady Barbara" in my opinion are three of the most beautiful tunes written, so its pretty good stuff to be inspired by. Talking to him about how things used to be done was also slightly scary, to think when he was writing Hornblower, the first time the director heard the music would have been on the scoring stage, nowadays it goes through what seems like a lot of demos before it gets recorded!
Was there a great awareness of Robert's relative celebrity status in the family, and were the family often reminded of this through the number of radio or TV broadcasts of his music ?
For sure, I think everyone was really proud of him, his music and what he'd achieved, I have his Grammy in my studio now for inspiration…. At the same time, he was also just a lot of fun to be around, great sense of humour and always had a good story!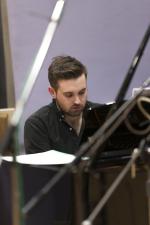 Naturally, Robert Farnon was noted for his light music compositions and an identifiable style, but do you know much of the composer's relationship to his own music? I'm thinking in terms of the pieces he remains best known for (Jumping Bean and Portrait of a Flirt) and did he ever feel a bit too closely associated with those pieces, given the breadth of his work in music for concert platforms including the 3 symphonies ?
I never spoke to him about that personally, but having talked with Dad about it in the past, I think the works that were most important to him were his "concert and light" works. Although a brilliant arranger I think he always wanted to be known for his concert works, whether the famous ones were in the latter bracket I would imagine so, but I'd be guessing.
So, onto your own music- you're known for having worked with people like Hans Zimmer on major film scores- were these very positive experiences and were there unforeseen challenges along the way ?
Positive, hard work and rewarding! I was lucky to start with some great film composers early on and learnt a lot from them. Although I went to music college, I gained most of what I know about how to get a film score done from actually doing it and being 'chucked in at the deep end'. I'm sincerely grateful for having the opportunity to go about it this way.
You've recently released two albums: A and Reverie. Can I ask what the impetus was for these particular releases ?
The real impetus was to write something away from films and just standalone music. When you're writing film music, it's dictated entirely by the picture. I wanted to flip that on its head and have the music in charge. I also got to spend a fair bit of time writing the music; deadlines are often tight on films whereas this was a lot more relaxed and lots of chances to reflect on what I'd written and tweak it till it was just right.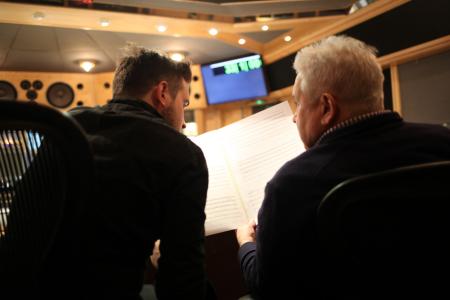 Thomas and David Farnon
For me personally, the music on these albums conjures fairly vivid imagery, were there images- film-related or not- that influenced the tracks on these releases ?
'A' was about emotions, so different emotions that we all feel and representing those in music, Reverie was a dream, so the whole album is based on dreaming, the first track carrying you into a dream, and then different things that happen inside a dream and then the last track snaps you out of the dream. We recorded Reverie in the big hall at AIR studios, so it has a big spacious washy feel to it as opposed to A being very direct.
It is interesting to me that both your grandfather's music and your own has a fairly distinctive aesthetic style, both in fact connected to writing for string instruments. Is there a particular quality about working so much with piano and string orchestra that appeals to you musically ?
I love strings and piano, perhaps too much… but I think I'm really at home writing for them. I know what they can do and when you're writing lots of dense harmonies, you learn your way of balancing it and know that it'll work. I also think having 40 people breathing emotion into something together as a section is a fantastic power. It's always the most exciting day going to the sessions and hearing it come to life.
Lastly, are there any future plans/releases that you'd like to share at this point, or is this under wraps for the time being ?
Yeah, there's an album called Solace I'm writing at the moment for choir (trying to wean myself off strings) that I'm recording next month for a summer release and a couple of film projects to be released this year ! I will keep you updated.
Many thanks for the interview, and I hope the answers are of interest !
Dan Adams ? 2019
Facebook: http://bit.ly/2IcasmG
Twitter: https://bit.ly/2G58IYY
Spotify: https://spoti.fi/2Ggftsh
'Reverie' Album: https://spoti.fi/2RP4fBs

With thanks to George Percy of WildKat PR who facilitated this interview. DA