Calling All Workers
(Eric Coates)
Analysed by Robert Walton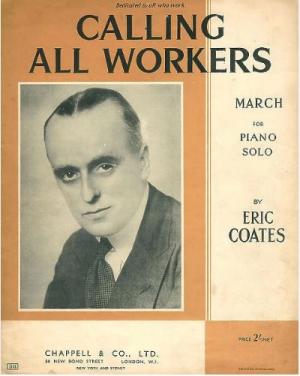 Eric Coates wasn't called the first English King of light music for nothing. He was a superb craftsman, brilliant orchestrator but more importantly his personal flare for melody put him in a class of his own. His irresistible tunes were simple and direct and always passed the ultimate test - they could be whistled. In modern terms they were 'commercial'. Like 'The Waltz King' Johann Strauss Junior, Coates made an art form out of light music by giving it the sort of credibility classical music enjoyed. How did he accomplish all this? By first immersing himself as a performer in serious music in the early part of the 20th century. During his time as principal violist with the Queen's Hall Orchestra (from 1912) he was absorbing all styles of music as well as being in the unique position of learning about baton technique and interpretation from the great conductors and performers of the period. Effectively he attended continuous free lectures at the "university" of the orchestra, but always with an eye on, and indeed an ear for, writing lighter music. Like many young would-be composers he felt he could produce works as good, if not better, than some of those he was playing. And he was probably right. As early as 1915 he had written a suite From the Countryside. So the scene was set for what turned out to be one of the most remarkable careers in light music.
Fast-forward 25 years to 1940 when as an established composer, Coates penned Calling all Workers, the signature tune of "Music While You Work". A short fanfare heralds one of his best known marches and indeed what is now regarded as one of the most famous orchestral marches of all time. Strangely it never quite worked when arranged for brass band. I don't know whether he intended to have a lyric, but how about these words for openers? "Now the BBC is Calling all Workers today, to be part of the music and fun all the way!" I can't think of a snappier march than this toe-tapping tune to keep up the morale of the wartime workforce.
But we have to wait for the second theme to discover the real Eric Coates. Cheerful, syncopated and positive though the opening was, this smooth joyous melody tugs at your heartstrings in a way that no other composer quite achieved and fits perfectly in the context of the march. Taking a leaf out of the Elgar songbook, Coates captures the indomitable spirit of the British people with a tearful tune the whole nation and the free world could relate to. But was it entirely his own? I have a theory he may have been influenced by Mendelssohn's Violin Concerto in E minor, albeit indirectly. (I was once accused of copying the same bit for my Bells of Old London which up until then I had never heard. More likely my song was influenced by Coates!). Then the strings becoming decorators play second fiddle to the brass who blaze away with the melody in a more high profile presentation.
Back to the top for the final chorus of this Coates classic and on reaching the moving second theme he achieves a truly triumphant effect by slowing it right down, eventually bringing it to a complete stop. This is an excellent example of a "thinking" composer using his classical background to make the most of tempo changes. For the third time the fanfare is incorporated, announcing a spectacular finish.
Long after that sparkling finale has faded away, it's that haunting melody with ballad-like overtones which lingers in the memory. And interestingly, Coates' musical heir Robert Farnon made no apologies for being inspired by the older composer's tender march themes, a tradition surprisingly started by Wagner.