Alf's Button Afloat (1938)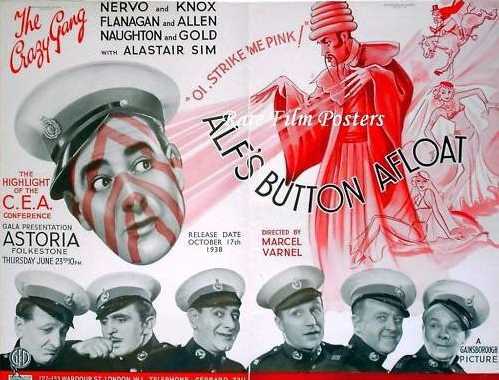 Wartime farce adapted from W.A. Darlington's famous play starring The Crazy Gang. Alastair Sim overacts wildly and tends to steal most scenes he's involved in.
The story begins with Aladdin burying his magical lamp in the ground before his death. Years later the lamp is dug up and brought to England as a Persian souvenir, but due to wartime shortages is handed over as salvage and made into a button for a sailor's tunic.
Meanwhile, six busking brothers (The Crazy Gang) are enlisted by mistake into the Marines, and posted onboard HMS Invicta. Alf (Bud Flanagan) is handed the tunic with the magical brass button and once rubbed it produces a genie (Alastair Sim) who grants his new owner any wish - Alf declares 'Strike me pink!" The genie duly obeys his new master's command and the ship's doctor subsequently orders the vessel to be quarantined believing Alf has contracted an unknown disease.
The cantankerous genie creates mayhem onboard ship and The Crazy Gang become involved in Lieutenant Hardy's attempt to woo Captain Driscol's daughter by purchasing the Hardy family ancestral home and turning it into a harem. More info from TV Cream
Cast:
Agnes Laughlan - Lady Driscol
Alastair Sim - Eustace
Bruce Winston - Mustapha
Bud Flanagan - Alf Higgins
Charlie Naughton - Charlie
Chesney Allen - Ches
Glennis Lorimer - Frankie Driscol
James Carney - Lt. Hardy
Jimmy Gold - Jimmy
Jimmy Nervo - Cecil
Peter Gawthorne - Capt. Driscol
Teddy Knox - Teddy
Wally Patch - Sgt. Hawkins
Watch on YouTube: https://www.youtube.com/watch?v=5sHjV8c-4qY